Bars and Clubs sister title, The Shout is running an Industry Women Spotlight Series, sharing the stories of women from across the industry, raising awareness for the challenges they face and passing on their advice for the next generation.
The series has previously spoken with Alissa Gabriel, Bars Manager at Hinchcliff House, Ciara Doran, Co-owner of The Doss House and Frank Mac's and recently Ellen Weigall, Founder and Director of Baby Pink Gin, a brand she created from scratch to hero premium femininity, and prove you can have gorgeous looking drinks without sacrificing quality. 
Weigall has always had a passion for gin, largely driven by the women in her family. A G&T was the go-to drink of choice for her mother and grandmother growing up, and with the gin boom happening right as Weigall entered her twenties, she was destined to follow suit.
In her explorations of the spirits industry at this time though, Weigall became frustrated with the lack of high quality yet feminine products. As a consumer, she felt that marketing, packaging and even products themselves were angled more towards masculine cues, and that anything that was embracing femininity was perceived as lower quality.
Looking back on this time, Weigall said: "When you do the research, nationwide and globally, women really hold their own in alcohol consumption and spirits consumption, but I feel that the consumer group itself isn't really respected."
Wanting to bring a serious, high quality and feminine product into the market for these consumers, Weigall set about creating Baby Pink Gin, an incredibly tough process for someone outside the industry starting from scratch by herself with no experience while working full time in PR. Weigall remembers being so discouraged so often during this process as people constantly underestimated her ability to bring the idea to life.
"I assume it was my age, gender and lack of experience, even though I had what it took and had the enthusiasm and motivation to do it," Weigall said.
That was until David Vitale, Founder of Starward Whisky, made time to sit down with her. Weigall said this meeting was a game changer as Vitale listened to her, took her seriously and gave her solid advice on how to move forward.
Then, after trusting her gut and her voice, Weigall was able to find a distiller to work with who really believed in the product and shared a passion for the idea. It was through this partnership that Baby Pink Gin was officially born – a premium, vegan-friendly, sugar-free pink spirit that stays pink when mixed, with a traditional juniper punch alongside floral and berry notes.
Embracing femininity
One of the core parts of Weigall's philosophy is to embrace your femininity and fight against the misconceptions and unconscious bias that anything that is overtly feminine is of lesser quality.
"I'm a real fan of embracing your femininity, and that's what Baby is all about. I find that typically we feel like we have to suppress our femininity and embrace more of a masculine energy to be taken seriously and to succeed in business," Weigall explained.
"I think that's where I've hit roadblocks and felt like I had to prove myself a bit more… not because I'm a woman, but because I'm a woman embracing my femininity and not trying to be anything else. It takes people a second to realise, oh, she actually does know what she's talking about.
"You don't have to suppress your femininity – question that unconscious sexism and just be yourself."
Being a bright pink liquid and unashamedly feminine in its branding, packaging and marketing, Baby Pink Gin is pitched at consumers who want something that looks gorgeous but also tastes great. Weigall said too often these consumers don't get the respect they deserve, with pretty or pink drinks usually aiming for a lower quality liquid through the use of excess sugar and sweetness.
Weigall said there is a mindset that: "We can produce something that is masculine and women will drink it anyway. But if we produce something that's feminine, men won't drink it, it's too scary.
"Well you know what? I do want a pink drink, I do want a pretty cocktail. Why is that embarrassing? I want both – a good spirit that looks amazing from a brand I identify with."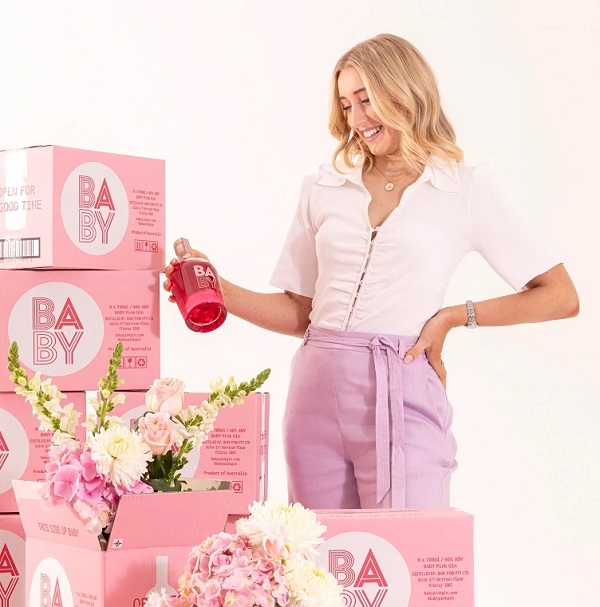 Championing female representation
Weigall is a passionate force for embracing femininity and hopes by sharing her story and her philosophy, it will encourage more women to realise their confidence to do the same.
Being inspired while watching more and more women celebrating themselves, going up for awards and winning recognition for their efforts, Weigall wanted to do more to highlight the breadth of female talent in the liquor and hospitality industry.
So she has started a podcast called Spill the G&T, telling the stories behind successful Aussie female-run businesses and providing words of advice from these inspirational women. Weigall also mentioned plans to develop a book that will highlight the careers and achievements of Australia's best female mixologists, alongside recipes heroing Baby Pink Gin and its feminine qualities. 
Top advice for the next generation
Having navigated a lot of challenges to get Baby Pink Gin off the ground, Weigall has some great words of advice for women looking to do the same. The key point she mentioned was to believe in yourself and your vision, and not take everything at face value.
"If someone says you can't do something or shouldn't do something, it usually means they think you can't do it, or they don't want you to do it," Weigall said.
"Don't take no for a final answer, believe in yourself and continue on. That's what I learned to do and if I didn't, I wouldn't have my business."
In having this approach, Weigall said she also learned to recognise when and how she received good advice. For example, the attitude of Vitale to make time to have a constructive and positive conversation with Weigall has been something she's always held onto.
"The most generous people, the most real people and the most helpful people are usually the most successful. The people who try to gatekeep [knowledge] are usually not the most successful," she said.
That's why Weigall is now very open about her story and happy to share her knowledge, in the hopes that it will push someone else who was in her position to find the confidence to follow that dream and make that step into creating a brand.
She said: "There's more than enough business and customers and ideas out there for everyone."
Catch up on all the previous profiles from The Shout's Industry Women Spotlight series here.
Send via Email