A new tiki pop-up bar has been announced for Sydney's CBD this summer, promising to be a lost paradise in the heart of the concrete jungle.
A collaboration between Burrow Bar duo Chau Tran and Bryce McDonough, and Sydney Rum Club's Tom Bulmer, 'Lost Luau' aims to provide an escape from the city.
Bulmer, a rum and tiki fanatic, will be running the bar; expect tropical classic cocktails with a playful flair, pineapples, coconuts and umbrellas – and a bar team with a whole lot of banter.
"The idea is that we want to show that you can have fun with serious drinks," says Bulmer. "We'll be focused around classic tiki cocktails, island bites and chilled vibes.
"The venue itself is going to be fitted out with pineapple hessian, pink flamingos, pin ups and even a lei wall. The focus will be on a tiki beach shack that takes you out of the city."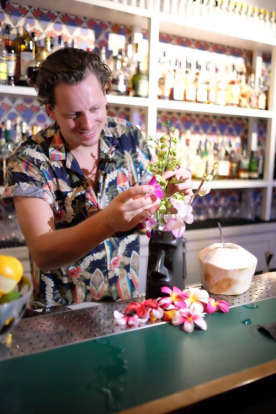 Lost Luau's kitchen will run late into the night, with share-friendly rustic Island bites provided by the 'Island Boys' from the Factory Theatre.
Headed by chef Phil Spence, Spence's Jamaican heritage and training in Michelin-starred restaurants, as well as a stint as Luke Mangan's sous chef, is the foundation for the creative influence you will see permeate the menu: think fun, casual dining with serious flavour.
Lost Luau opens on the 1st of December at 4pm.
Send via Email