Bombay Sapphire has reinvented its Project Botanicals pop-up event, to be held at the Botanic Gardens Restaurant on Sydney Harbour.
The interactive dining experience is designed to showcase the ten botanicals of Bombay Sapphire, uncover consumers' taste preferences and expand their palate when it comes to food and drink pairing.
The event, which sold out in Melbourne last year, emphasises the growing global trend of pairing food with cocktails rather than wine, and will provide inspiration for foodies to follow suit when entertaining at home.
Taking place over two weeks from the 2-12 March 2017, the Project Botanicals pop-up works to fuse cocktails, food, artistry and music into a feast for all the senses. The dining experience includes interactive sensory installations to help visitors discover what flavours they prefer, while interactive labs on each table enable diners to add their own botanicals to cocktails and dishes.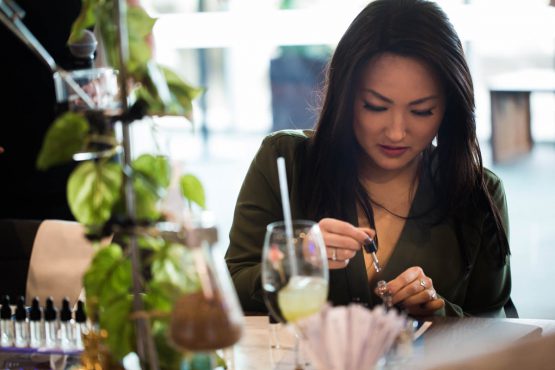 Some of Australia's top bartenders have crafted cocktails for the event, including The Rook's Cristiano Beretta; The Barbershop's David Nguyen-Luu: 360 Bar and Dining's Guillermo Arnal-M; and Bombay Sapphire Australian brand ambassador Sean Forsyth.
The paired tapas-style dishes have been created by Botanic Gardens Restaurant head chef, Matt Fletcher, with botanical ingredients sourced from the Royal Botanic Gardens for a true 'garden to plate' event.
The menu includes dishes such as: cocoa ash crusted kangaroo carpaccio, paired with The Rook's 'Paradise Lost' cocktail; Sydney rock oysters with angelica granita and yuzu mist with The Barber Shop's 'Pumpkin & IT' cocktail; confit pork belly, honey caramel, pink grapefruit and fennel paired with Sean Forsyth's orris root 'Floradora' cocktail; and compressed rhubarb, liquorice ice cream, orange cake and orange crisps paired with 'Liquorice After Dark' cocktail.
Location: Botanic Gardens Restaurant, Mrs Macquaries Road, Royal Botanic Gardens, Sydney
Tickets: $49+bf for two dishes and two paired cocktails of your choice. Additional dishes and cocktails are available for purchase.
Session dates and can be found at www.projectbotanicals.com.au
Save
Send via Email