Built on a converted car park site, Whitehart is a two-storey open container bar nestled in the end of Whitehart Lane in the Melbourne CBD.
Created by husband-and-wife team Stephen Johnson and Sabrina Santucci, the venue's containers sit among a large recycled steel frame over two levels in a unique design.
According to Johnson, he and Santucci had been parking in the old car park located at the end of Whitehart Lane for several years, and had often discussed how the space was underutilised.
"The idea of a shipping container bar has been with us for a long time. We have seen some great bars over the years and the thought of creating one of our own always excited us," he says.
In order to fulfil the potential they saw in the space, Johnson and Santucci have collaborated with local artists Daisylegs in the creation of several multistorey visual art installations and wall projections within the venue.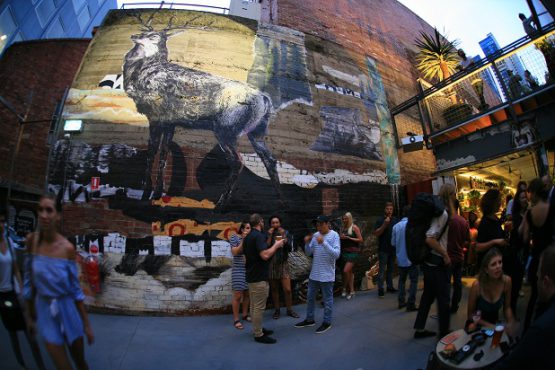 "The space is large yet intimate, industrial but green, outdoors yet undercover, you're in the CBD yet hidden away and the artwork is world class. It's a totally unique experience," says Johnson. "Our aim is to make Whitehart like no other bar experience in Melbourne. I think we've achieved that."
Whitehart opened to the public on Friday 3 March and is located at 22 Whitehart Lane, Melbourne
Save
Send via Email