Opening this week, new Crows Nest bar Blue Caboose is a Mediterranean-inspired specialty bar. Located adjacent to its sister restaurant MediTrainean, which opened earlier this year, Blue Caboose is part of the recent boom in small bars and restaurants opening on the Lower North Shore as Sydney's bar culture spreads out from the CBD.
The drinks list is designed by award-winning bar consultant Alex Clark (QT Sydney, Eau de Vie, Lobo Plantation) and features a range of bespoke cocktails with a Mediterranean twist. All the drinks are influenced by fresh, seasonal Australian produce as well as Mediterranean spice nuances, with a focus on spritz-style cocktails.
These include: Sangria Bianco (Cinzano Bianco, St-Germain, Sauvignon Blanc, lemongrass, cucumber and tonic, with drunken spring fruits); Money'tenegro (Amaro Montenegro, house-made orange blossom butter, orange bitters, charred lime, Capi ginger beer); and Greek Island Dream (Chairman's Reserve Spiced Rum, fig, honey, rose water, almond milk, burnt cinnamon and edible flowers).
There is also a range of international beers, a predominantly European wine list, and a selection of deconstructed hot drinks such as chai tea and hot chocolate, and more than 20 speciality T2 tea flavours.
Bar Caboose's food menu takes inspiration from the 21 countries that border the Mediterranean, with a modern take on some classic favourites on a menu that will rotate throughout the year. The selection includes a range of shared boards, kebabs, individual tapas plates and dessert crêpes.
The interior is designed to reflect the colours of the Mediterranean Sea with azure blues feature in the seating, teal hexagonal tiles imported from Europe on the bar, and handmade wallpaper to create a leafy tone. This is in contrast to the oak and marble tabletops both inside and on the outdoor deck, the exposed brick wall, creating a bright welcoming space.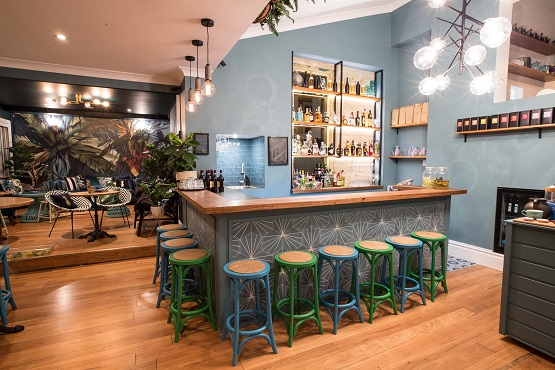 Although Blue Caboose has its own entrance, it can also be accessed through MediTrainean, making it the ideal place to pop in for a drink before and after dinner at the sushi train-style restaurant.
Save
Send via Email