Cargo will reopen this Saturday after closing in mid-August for a venue revamp, taking inspiration from the sleek grey tones of the New York waterfront.
The new digs look distinctly different: think stacked glass blocks, charred timber, neon blue stairs, and bright soundwave graphics on the carpet that add pops of colour throughout.
The refreshed drinks menu includes local and international wines, classic brews, 'insta-worthy' cocktails and magnums (1.5L) of celebratory bubbles for popping bottles.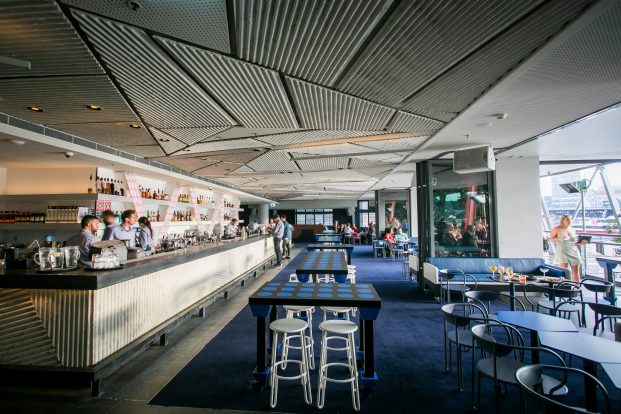 A new easy eats menu has also been designed for bar snacking through to a casual lunch or dinner, and includes pork sliders, salt cod croquettes, mushroom arancini and mini hot dogs.
Deep pan pizzas are another highlight with topping options including margarita, prosciutto and BBQ chicken; pizza slices are also available until 2am for hungry late-night punters.
To celebrate, King St Wharf's most famous party venue is celebrating its relaunch with a huge shindig this Saturday 4 November.
Familiar faces revive the dancefloor on the DJ decks every Friday and Saturday – Sydney's KLP will kickstart the launch party with her signature intoxicating blend of club beats and polished pop.
Other emerging Aussie DJs, including Jye Emdur, Recess and Chivalry, will stop by in the following weeks to spin a mixture of house, RnB and party jams.
Images: Anna Kucera
Send via Email