By Andy Young, Editor The Shout
Canadian bartender Kaitlyn Stewart has seen off the competition to be crowned the 2017 Diageo World Class winner at this year's final in Mexico City.
The week-long competition final saw 55 of the world's best bartenders battle it out in a Lucha Libre ring, before the top four was named for the final round. That top four included Australia's Andrea Gualdi from Maybe Frank in Sydney (featured on the BARS&clubs May/June cover), as well as Stewart, Kevin Patnode from Turkey and Mate Csatlos from Denmark.
Speaking after being crowned the winner, Stewart said: "I'm so incredibly amazed and shocked to have been named the world's best bartender. It's been a gruelling week, taking on the toughest challenges against some of most skilled bartenders I've ever met.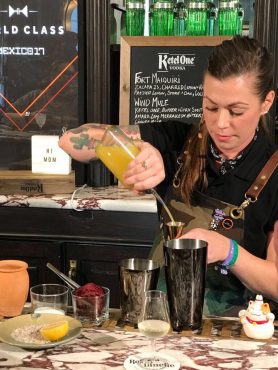 "Participating in the Finals was amazing enough but to finish the week as winner – I'm so delighted.
"Cocktails are on the up now more than ever and to be at the forefront of that, pushing forward the idea of using better ingredients and better recipes to create even better cocktails is something I'm really passionate about and I've loved every moment of this experience."
Stewart will now travel the world as a Diageo Reserve brand ambassador, and will become the ninth member of the World Class Hall of Fame.
Johanna Dalley, Global World Class Director, said: "This is a special week in the bartender calendar and it didn't disappoint – we have truly been blown away. Cocktail culture is booming and these World Class finalists are the people who are leading the way, helping the industry grow from strength to strength.
World Class judge, Lauren Mote added: "Every finalist was incredible but for me Kaitlyn really stood out. Her Lucha Libre performance was exceptional, the way she handled the Heat of the Moment round blew me away.
"By the time it came to the final challenge, we wanted to find someone bursting with skill, knowledge and charisma, with unbelievable creativity and an incredible mastery of the classic and signature serves. Kaitlyn well and truly delivered. It was a phenomenal thing to witness and be a part of."
Diageo World Class also revealed that the competition's tenth anniversary finals will take place next year in Berlin.
Send via Email