Creating a successful agave spirit-focussed venue these days is a little more complicated than hanging up a few sombreros and lining up the tequila shots. We take a look at what is happening in the world of tequila and mezcal, and how venues can think outside the agave box.
According to legendary bartender Phil Ward, setting up a tequila bar is possibly the easiest business proposition for an operator – because people already love going to venues that serve terrible margaritas and bad Mexican food.
It helps that agave spirits are currently in the midst of a boom in Australia, with drinkers looking to explore the vastness of the category. While the numbers might technically be in decline, Patrick McEwan, brand manager of Herradura, points out that the results are down to poor performance of the market leading mixto brands, while the premium and super-premium segment is actually in very strong growth.
"Tequila consumption within the Australian market is sitting right on the precipice of taking the category to new heights or falling back to where we were five years ago," he says. "With the ever increasing licensing pressures surrounding "shot" consumption, the only way for tequila to survive and evolve is to continue to educate consumers of the versatility of premium tequila."
Alana Deegan, of Casa de Vinos, which distributes Clase Azule, likewise believes that there is still plenty of growth left in the category, particularly in the premium and super premium segments. Similarly, mezcal keeps gaining traction on a national level. Octavio Gomez-Haro, of Casa Mexico Group, says that Sydney and Melbourne are no longer the sole market drivers, with SA, WA and Queensland starting to increase their investment, and growth is only expected to expand. While John Gakuru, of Jose Cuervo, says consumers are becoming more sophisticated in their tequila choice, and knowing more about tequila and its history, production and individual brand stories helps to deepen the enjoyment for them.
According to Bildo Saravia, owner of Mr Moustache bar in Bondi and Casa Mezcal distribution, the Australian market is well educated and willing to do their research when it comes to new drinks.
"They're not the kind of people that you can just go and tell them something and they will just go 'oh yeah, ok'," he says.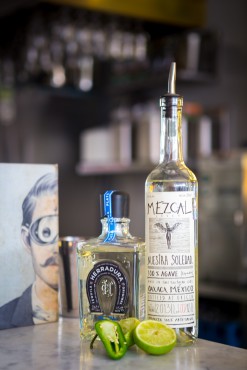 Educated consumers mean that bartenders have to be on top of their game, and there is always the issue of tackling bad tequila experiences that haunt consumers. According to Nick Peters, co-owner of Mamasita – a Melbourne Mexican restaurant that "just happens to have a killer tequila and mezcal list" – he has issues with encouraging people to drink tequila everyday.
"It is our aim to convince them that what we're selling is not the hooch we all used to drink in the park," he says.
McEwan suggests easing agave shy customers into the category by simply laying out your list by region (or more effectively) by flavour and by educating staff to customise a drinker's experience to existing tastes.
"We in the industry know that tequila valley or heartland tequilas are synonymous with rich, earthy agave flavours and that highland tequilas are generally more floral or feminine in nature," he says. "Consumers do not know this so continue to encourage conversation. If your guest is a fan of Laphroaig then don't try and introduce them to agave spirits with an unaged Blanco."
McEwan reinforces that the Australian market is heavily dominated by dark spirits, so consumers have a thirst for sweet vanilla and oaky flavours – that means introducing whisky and rum drinkers to the category with a well-balanced Anejo or heavily aged Reposado. On the other hand, with customers who love gin botanicals point them toward an agave rich Blanco.
ESSENTIAL STAFF TRAINING
Mamasita runs in-depth  tequila and mezcal-specific staff training, including production and provenance, and regional variations. They also have reps, suppliers and brand ambassadors to do master classes, tastings and training.
"We have to be able to answer customers' questions and recommend stuff from personal experience," says Peters. "You can always tell when someone hasn't tasted something personally, and is just giving you the line they've been told."
Mamasita will also soon be the first place to have a dedicated agave sommelier to walk customers through the whole tequila and mezcal menu – that's 150 tequilas and 30-40 mezcals. Likewise, Saravia invests a lot of time training his staff – even as far as planning on sending them off to Mexico to study mezcal.
"You've got to work it, you've got to drink it, and you need to grow a palate," he says. "And it's not from one day to another, it's going to take time. To see how different each mezcal is, that's what we try to teach them and to train them."
Encouraging drinkers to expand their repertoire can take some investment. At Mr Moustache the aim has always been to educate in a fun way and through incentives.
"We have the Mezcal Tuesday, $7 dollar mezcals even the ones that are usually $14 and $21," says Saravia. "And our aim is really to encourage people to try it and comprehend that the same as tequila, you have different flavours with different brands."
Mr Moustache is also working on a 'mezcal passport' or Carnet de Mezcal, designed to encourage both repeat visits and exploration of the category.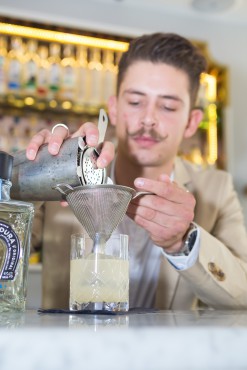 For bars looking to really up their tequila and mezcal game, offering flights helps educate customers on the range of flavours available within each agave spirit.  Deegan suggests choosing a theme to illustrate, such as the attributes of highlands vs lowlands, or Blanco vs Reposado vs Anejo, or contrasting the different regions within Mezcal. Gomez-Haro says that not only is it a good introduction via manageable 15 millilitre serves, it also justifies an expanded range on shelf.
"You can have an entry flight to cater for new takers and a more expensive flight for more serious customers," he explains.
Peters says that he pushes flights to get customers to try a gamut of flavours despite the fact that it's more than what they would pay for a couple of beers.
"People will come in hating tequila and half an hour later they're drinking the $25-40 nips of top shelf stuff," he says.
CREATING AN AGAVE EXPERIENCE
Consumers are savvier than ever, so delivering a positive and engaging experience will keep them coming back for more.
"Given our small population, Australia is blessed to have an abundance of great venues so simply opening your doors will not ensure success," says McEwan. "I wouldn't look at your competitors and question what you can do better, I would look at your competitors and question what you can do differently."
Gakuru agrees, emphasising that bars need to talk history and sell passion.
"Wrapped up in the history of tequila are so many wonderful stories and anecdotes that really help to engage with the category and really feel in touch with the heart and soul of Mexico," he says. "Ditch the effortless Mexican stereotypes like sombreros or luchadores."
Saravia reinforces that while the stereotypes of Mexico are fun, they don't really represent Mexico for young Mexicans.
"Mexico is contrast and that's beautiful. It's a cultural clash," he says. "And that is what Mr Moustache is about." The bar presents a different, not often seen side of Mexico, inspired by the Francophile dictator Porifio Diaz who sparked the industrial revolution in Mexico, and launched an ambitious French-inspired building program in the capital.
"He built the Palacio de Bellas Artes in Mexico City," he says. "It's all made of marble with this gold [dome]. All these buildings in Mexico City they just blow out your mind."
With its marble bar top, gold accents and pared back décor, the bar is clearly inspired by Mexico City, even the brightly coloured and  somewhat jarring wood panelled kitchen.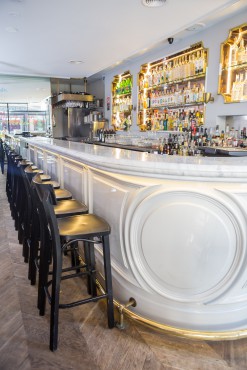 "You have your beautiful French building but I go and put my taco [stand] outside of there and steal your electricity, steal your water, leave my trash there," says Saravia. "One thing that Mexicans have in common is that we have all eaten at one point in our lives in the streets. You're going to find some rich nice looking girls at 4-5am eating a taco next to a bus driver and nobody cares."
Throw in the surrealist portrait that graces the walls and menus of Mr Moustache, and you have a touch of André Breton, friend of  Mexican artists Frida Kahlo and Diego Rivera and the father of surrealism, who vividly diarised the Mexico of the 1920s that captured his imagination. And for Saravia, his bar captures the essence of what it actually means to drink and eat in Mexico.
"Mr Moustache is sort of like the sarcasm 'oh every Mexican has a moustache or a sombrero', we've just tried to make it a little more classy and very Mexican."
Creating an agave spirit experience that doesn't rely on the pop culture version of Mexico has been exceptionally successful at Mr Moustache, establishing a precedent that can be applied to other venues that don't necessarily seek to reinvent themselves as a cantina bar. However, Nick Reid, of Tequila Tromba, cautions that a lot more work needs to be done on educating drinkers around why agave based spirits are so special and the many different ways to drink them. Central to this is replacing the "lick, sip, suck" ritual with traditional Mexican drinking experiences – including the Bandera, as well as serving tequila for sipping alongside lime and salt.
"It's great to allow people to follow a similar ritual while showcasing the flavours of tequila instead of covering them up," he says.
Gomez-Haro concurs, emphasising that bars should change a customer's experience of mezcal by serving it in a whisky glass, which immediately changes the way a customer interacts with the spirit and how they approach drinking mezcal in general. To incentivise this approach, he has worked with Bruxo on branded traditional glasses for serving mezcal.
Likewise, in Mexico, food and alcohol go hand in hand – but it doesn't all have to be Tex Mex, there are plenty of options from Mexico's 10,000 years of history that are being enthusiastically embraced in Australia.
"We also tried to put an emphasis in our food and maintaining [what is] a strictly traditional Mexican cuisine," says Saravia. "Even though we present the food in a more contemporary way it is strictly traditional food – we don't play with recipes, we don't invent. Leon [the executive chef] gets recipes from books that are from the 16th century and those are the sorts of recipes we are working with."
However, agave flavours present an opportunity for a more unique offering, even in venues that are not specifically Latin American themed. Gomez-Haro names Sefa Kitchen in Bondi, which has worked a mezcal cocktail into their menu that incorporates Middle Eastern kitchen ingredients and spices.
LA FAMILIA
Saravia believes that Australian drinkers are clued in and interested in the families and stories that are behind the brands he has on shelf.
"Every bottle of mezcal from every producer supports a family," he says. "That means they can sustain themselves economically, send their kids to university. And they can take care of their plants so that their sons and their grandsons can keep doing the same thing."
These histories can be directly leveraged to engage customers in agave spirits and pique their interest. Deegan says that the Clase Azul bottle is not only visually appealing, but has an amazing backstory about the indigenous community that makes the bottles and the matching hand-painted snifters.
The Jose Cuervo brand has over 200 years of family history behind it and Gakuru encourages bartenders to use it to articulate the diverse wonders of the tequila category and steer customers in the right direction.
"The focus is on education," he says. "Only by understanding and being able to articulate the tequila story is one able to answer to a customer's needs."
Similarly, Casa Mexico focuses on the stories of the families that produce its mezcals – with over 300 combined years of struggle, triumph and legacy the stories of the producers make for an incredibly unique selling point and a great conversation starter for engaging with customers. It's a similar story at Tequila Tromba.
"Getting drinkers to the top end of both the tequila and mezcal categories is all about the story," says Reid. "Take them through the people, time and artisanal techniques used to make some of the higher end products."
Send via Email