A new sparkling kombucha, brewed at Stone & Wood Brewing Co., is aiming to appeal to more than just 'health nuts' and be seen as an approachable alternative in bars and pubs.
Founders of 'The Bucha of Byron' Cam MacFarlane, James Mackinnon and Paul Tansley all grew up with kombucha in the 70s and 80s, but with the sparkling, fermented drink experiencing a revival in Australia, decided to start making it themselves.
"We found a lot of kombucha can be hit-and-miss in terms of taste, and that creates a barrier for a lot of people – we wanted to create a brew that didn't just feel like an obligation and people could actually enjoy," said Macfarlane.
After agreeing there was a place in the market for a new kombucha product that was approachable to a wider audience (not just 'health nuts'), they approached Stone & Wood Brewing Co. to collaborate.
Unsurprisingly, the Bucha of Byron's packaging is more akin to a beer, and unlike other kombuchas, the team are keen to bring their product into bars, pubs and cafes – giving drinkers a refreshing, low-sugar alternative to alcohol or even as a healthier mixing alternative.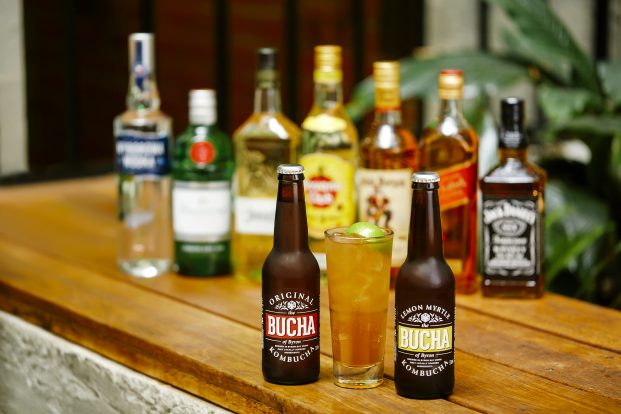 "We don't expect people to only drink kombucha every day or for the whole night out, but rather as a way to find a little balance, swapping it out every second or third alcoholic drink, or having one when you're hungover on a Sunday," added Macfarlane.
"The success of Bucha of Byron in pubs also shows that customers are wanting an alternative to alcohol and something with an added health benefit."
The team have also collaborated with Garden State bartender Kevin Peters in developing a range of kombucha cocktails, including a Lemon and Tarragon Fizz with Dry Gin (tarragon-infused Maidenii dry vermouth, lemon myrtle syrup, fresh lemon juice, egg white and Bucha of Byron) or the Kombucha Smash with vodka, pineapple pok pok, lime juice, mint leaves and bitters.
"I love mixing with kombucha – not just because it's different, but because it goes with so many different flavours," said Peters. "The flavour profile is hugely versatile and adds a nice bit of complexity – while having the benefit of lower sugar.
"From a simple Bucha, gin and mint to more complex creations such as our Australiano, Bucha cocktails have become a real hit with customers."
Send via Email