If you're a whisky lover, you'll find some extra special treats at this year's Top Shelf (8-9 August), whether Scotch, Irish whiskey, bourbon or good old moonshine is your tipple of choice.
Laphroaig will be celebrating its 200th anniversary in style, sampling the 15YO created for the bicentennial celebrations, pouring cocktails and offering visitors the chance to win a whisky cabinet worth $10,000.
Over the two days off the show, Laphroaig will build a large white wall from 1,000 stones to resemble the iconic white walls of the distillery in Islay, Scotland. They'll also be giving away 1,000 anniversary whisky marmalades in goodie bags.
World's Smallest Bar
Monkey Shoulder will be pouring cocktails from the World's Smallest Bar (self-contained and fully-functioning!). It's a fun, interactive experience, and rumours have it that visitors to the bar exit through the fridge…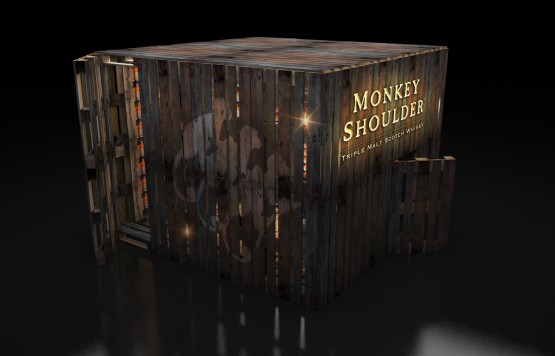 Irish whiskey Tullamore D.E.W. will be highlighting beer and whiskey pairings with tasting paddles as part of their Dew and Brew promotion. They'll also be running a competition on their stand, involving a very special typewriter.
Tasmanian whisky Sullivan's Cove will be sampling its Double Cask (a delicate blend of American and French oak casks), American Oak (double gold at the San Francisco International Spirit Awards) and French oak (voted best single malt whisky in the world at the London Whisky Awards).
Other whiskies that will be available for sampling at Top Shelf include The Glenrothes, Glen Grant, Nikka, Russell's Reserve, Whistle Pig Straight Rye and Ole Smoky Tennessee Moonshine. A number of local craft whisky producers will also be represented including the Whipper Snapper Distillery in Perth and the Black Gate Distillery in Mendooran.
Fire and wood
Distillers Jimmy McKeown (Whipper Snapper), pictured below, and Brian Hollingworth (Black Gate) will conduct tutored tastings as part of the Best of Aussie Craft Spirits sessions across the two days, while Peter Bignell from Belgrove Distillery (main picture) will give a number of coopering demonstrations at the event, demonstrating how to char the barrels in preparation for the ageing of the whisky.
Around 100 companies will be showcasing their products at Top Shelf, including 60 spirits suppliers and 25 beer and cider companies. Sampling is free, while longer serves are available at competitive prices, and bottles can be purchased to take home.
Great food will be available, with the likes of Huxaburger, Meatmother, Frencheese and Paco y Lola taking part.
You can save $15 on the price of a ticket when you buy online HERE. Advance tickets cost just $25.
Top Shelf, Royal Exhibition Building, Carlton. Saturday 8 August (12-7pm) and Sunday 9 August (12-6pm).
Send via Email