Naren Young has some secrets to tell. Under his guidance, New York restaurant Saxon + Parole was crowned Best Restaurant Bar in America at Tales of the Cocktail in 2013 and 2016, while his new bar Dante currently ranks #34 on the prestigious list of the World's 50 Best Bars compiled by Drinks International. In our May/June issue (subscribe here), he let us inside his mind.
When my friend Linden Pride tapped me to help curate and run the bar at Saxon + Parole, which opened in lower Manhattan in September 2010, I knew I was ready to finally create something truly world class. I had plied my trade in this business for almost two decades by that stage and the influences and philosophies that I'd collated in that time were ready to find an outlet. I was prepared, mentally at least, to bring these ideas to life and I knew that it would be an unwavering and acute focus on excellence that would bring success (and profits) to this hip new restaurant bar that had a crack team behind it.
KEEP IT FRESH
I clearly remember my first day, looking through the downstairs storage freezers. Most of it was filled to the brim with frozen and pasteurized lemon and lime juices. Oh dear! Cue the eye roll.
I threw the entire contents straight into the garbage where they belonged and from that moment on, I would insist that every single juice, puree and syrup would be made by us, on the premises and fresh daily, when applicable. That means that we didn't stock cranberry juice, because we couldn't make it ourselves.
That caused a bit of a stir with the owners who had never hired someone with this maniacal eye for detail, who simply refused to cut corners. Their argument was that every bar in the world had cranberry juice and therefore, we also had to stock it. My succinct response was, "I don't want to be like every bar in the world. I want to be unlike every bar in the world."
Think about that for a minute. This philosophy would become one of my guiding mantras to this day. Each bar and bartender needs to find their own voice, and you should never do anything because you feel obliged to, or to be accepted as part of the status quo. Where's the originality in that?
This dedication to freshness might sound obvious – even rudimentary – to many of you. But keep in mind that very few bars in America (where I've been based since leaving Australia in 2006) actually serve fresh juice. Sure, most of the modern craft cocktail bars do, but even many of them follow this pursuit haphazardly.
I've worked in some of the most high profile bars in America where we squeezed our own citrus juices daily but our pineapple, cranberry and apple juices were all generic bottled brands, made from concentrate. I'm sorry, but that is NOT a fresh juice program.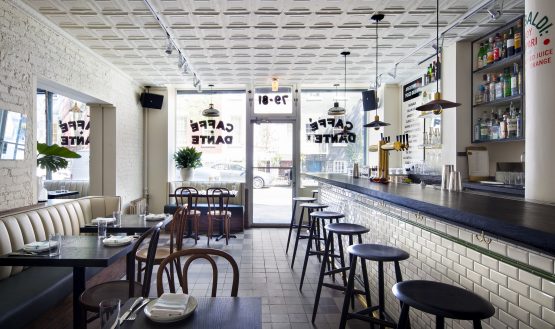 ATTENTION TO DETAIL
My biggest inspiration was actually an iconic restaurant called the Gramercy Tavern here in New York, a place that would teach me many lessons and still informs many of the decisions that I make today.
I never actually worked at the Gramercy but by spending countless hours (and money) at their long, legendary bar, there were many tiny details that made me realise what it would take to create one of the world's best bars. This restaurant is not on the radar of the cocktail geeks that descend on New York every day of the year, and that's a shame.
The main thing I took away from my experiences there was that they seemed to pay inordinate attention to the smallest details in everything they did. This is not as easy as it sounds.
I've often called it the 'complete bar', even though there are many better places around town to find intricately crafted cocktails. But that's not the point; it is their adroit focus on the minutiae that led me down the path to look at every tiny detail of a bar operation and implement that philosophy in every venue I've worked at to this day.
MORE THAN JUST DRINKS
Truth is, it's not the cocktails themselves that separate a good bar from a great one anymore. There are wonderful drinks being mixed all over the world now; more than any other time in history.
It is by taking a thoughtful, analytical approach to every part of a bar's operation, focusing on the small details and always asking "why?" that can set you on your way to developing a world class bar program.
It is the bars that provide consistency across all levels, whether it be drinks, service, whatever, that will always rise above the pack. To do so on a daily basis requires ongoing training and discipline and I cannot overstate the importance of both of these enough. By providing your staff with the tools and knowledge to execute your vision, you will create a positive and dynamic culture among your team and hopefully create a sense of loyalty because they know they work in an environment with very clear goals and an underlying focus on constant higher learning.
This should never be measured by what and how many awards you win. The Artesian Bar in London was crowned the world's best bar four years running, but I don't believe it was necessarily their drinks that won over the judging panel (though in truth their drinks were very good).
What they did better than anyone else, according to many accounts and not just my own, was coddle their guests. Greeted with a glass of champagne on arrival, it was a regal touch that certainly never went unnoticed. And it these small gestures of hospitality that create memorable experiences for our guests.
And really, isn't that the whole point?
Send via Email