A hidden gem lurks in the back lanes of Sydney's Neutral Bay. Tonic Lane – café by day, 'ginoteria' by night – has quietly been building what must be one of the country's largest Australian gin offerings.
Opening on World Gin Day in 2016, Tonic Lane's raison d'être is to promote Australian gin distilleries. Starting off with 22 Aussie gins just over a year ago, this number has now grown to 86.
The Australian focus goes beyond the gin selection, with the bar supporting Aussie tonic water as well – in particular CAPI and Strangelove – and rotating beers and wines seasonally, promoting local wineries and craft breweries.
Owner of Tonic Lane, Lain Tapsall (pictured right), told BARS&clubs that her mission for Tonic Lane was "very distinct".
"Sometimes the fusion between cafes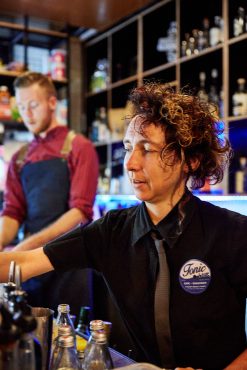 and bars can be quite confusing for people – ours was that we support predominantly gin and Australian distilleries."
Former area manager for Bourke St Bakery, Tapsall says she's been a gin lover most of her life, and has parlayed that passion (combined with a strong hospitality background) into opening a place of her own.
Unsurprisingly, gin and tonics have been a large selling point at Tonic Lane – but Tapsall says a larger portion of sales have actually been signature 'Roadtrips'.
"Other bars might call them flight paths – but we keep it very Australian," she explains. "People get a little tasting board with three 10ml shots of three different gins from our range.
"They can choose the gins, or we can choose for them, and there's a few on the menu that we've designed that revolve around themes, whether it be barrel-aged gins, sloe gins, or navy strength gin, and we give them the tonic and the garnish and the ice on the side so it's a little more theatrical."
Another one of the major successes at Tonic Lane has been their regular gin nights, which, in Tapsall's words, "get the word out about these great Australian distilleries."
"I invite a distillery in – if they've only got one gin I'll get a few distilleries together – so we can profile three different gins on the night. People get three of our dinner menu items and three gin and tonics, along with out head bartender Jamie's special garnishes.
"The nights are broken into intervals: we'll introduce a distiller, they'll talk about their gins, their label, and what they've got planned for the future. Jamie also does a deconstructed cocktail using one of their gins and it's hosted by Adam who's my roaming magician – there's also a gin quiz at the end and normally one of the distilleries gives away a tour."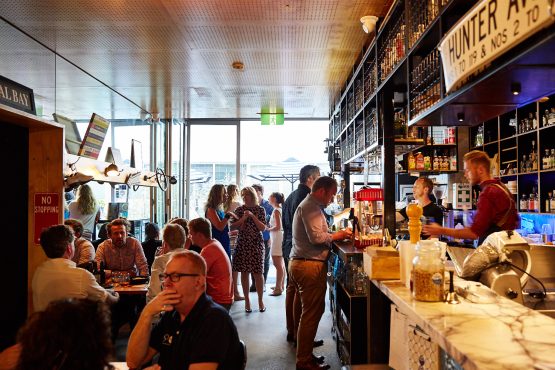 Head bartender Jamie Nairn is behind the cocktail list, an eclectic list of "gin spins on classics": the current 'Barboy Special' mixes Prohibition Bathtub Cut Gin with Sydney Brewery Cider and Licor 43, served warm. Other signature cocktails include a Dirty Chai Espresso Martini that combines Ironbark Dry Wattleseed Gin with Chai spirit and a house coffee blend.
Another Tonic Lane signature is the 'Gin Passport', which patrons have stamped by the bar staff every time they sample a new gin.
Tapsall also explains that she's currently working towards on-selling the gins too: "That's the next part of my business plan, getting my online license so people will be able to purchase a gin and have it sent out – with a little gift pack of Australian tonic water as well."
So keep an eye on Tonic Lane – with a strong guiding philosophy, a huge (and growing) selection of Aussie gins, and a proactive and passionate team running the ship, the bar will only continue to evolve, adding to the growing bar scene north of the Harbour Bridge.
Send via Email