Some of Kings Cross's most beloved venues are combining forces for 'Meet Me in The Cross', a full precinct, ticketed party this Saturday 1 July.
Participating venues include The World Bar, Kings Cross Hotel, Candys Apartment, Crane Bar, Jangling Jack's, Sweethearts Rooftop, Potts Point Hotel and The Old Growler.
Each venue will host parties from some of Sydney's most renowned party collectives, including Astral People, Sweat It Out, Lovebombs, Heaps Gay and Future Classic, while DJ sets from the likes of Hermitude, Thundamentals, Nina Las Vegas and live gigs from local groups like Dappled Cities and Mezko will keep punters dancing through 'til 3am.
Meet Me In The Cross is a joint initiative by anti-lockout crusaders Keep Sydney Open and Eastside Sydney, a local collective that supports creative and economic pursuits in Sydney's inner east.
According to Keep Sydney Open, Meet Me in The Cross "is more than just a party."
"This is Keep Sydney Open actively supporting culture and the venues that have suffered since the lockouts besieged our city. It's time to do more than just complain – we need to get out there and make use of our city.
"Developers are eyeing every pub and club in this city, but the best way of holding on to what we have is to go out and enjoy these spaces!"
One ticket costing $30 will act as a passport to the Cross, providing access for patrons to all participating venues. Tickets are available now via Eventbrite.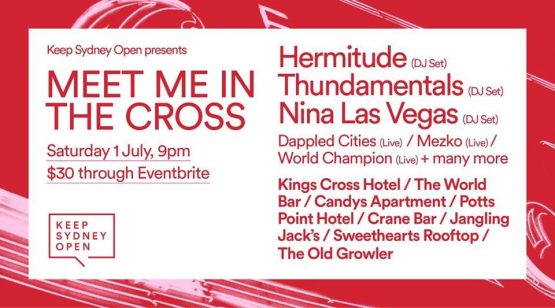 Send via Email