The South Bank of Brisbane has a new cocktail spot, with Maker recently opening to the public. The brainchild of Jerome Batten, who is behind well-known Brisbane venues Sourced Grocer and Gauge, the bar is focussing on creative cocktails that are driven by local spirits and produce.
According to bartender Nick Royds it is a conscious choice on the behalf of Batten to showcase the best of Australian spirits, and one that fits with the ethos of his other businesses.
"It stems from [Batten's] beliefs of using the best local, seasonal, native and organic produce to create interesting and exciting menus," he says.
The cocktail menu leans toward the exceptionally creative, with a focus on both seasonal and native produce.
"We design our cocktails in a way that they use many modern bartending and cooking techniques that utilise our ingredients to their full potential," says Royds. "In the end we want to provide an exciting experience for our customers and challenge perceptions of what can work in a cocktail."
To that end, customers can wrap their lips around Russell's Reserve 10-year-old with black garlic and caramel syrup, mint and eucalyptus liqueur, and mint and native thyme. Or a Fire Drum Vodka martini with house dry vermouth, saline, kombu tincture and pickled seablite. Or, as pictured above, beeswax washed whisky that is cold dripped through coffee, pollen syrup and macadamia oil, and served with a black garlic bread, roast macadamia crumb, and local honeycomb.
While the bar has not yet got its food offering up and running, Royds says that the menu will be finalised within a few weeks. With executive chef Cormack Bradfield designing the menu, drinkers can expect to be enticed with Maker's version of "modern Australian bar snacks". So think chargrilled yabby tails, seared scallops and local charcuterie that the chefs have cured themselves. And the latter will be constantly changing, with options such as water buffalo biltong and wild boar loin rotating through the menu.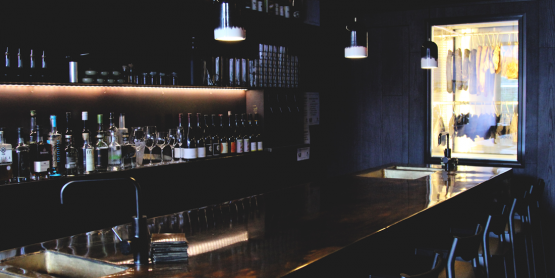 The small bar – it currently seats 25 with further expansion planned – has taken its design inspiration from Japan, according to Royds.
"The single focal point in the bar is our Charcuterie cabinet," he says. "It's a mix of Japanese minimalism and modern Australian design that allows the customer the best experience as the bartenders and chef are our creations are on display."
Most importantly for Royds is the fact that, despite innovative menu, there is no pretence at Maker – it is really all about the customer and creating a unique experience for them.
"We love what we do and love sharing the experience with our customers," he says. "So whether it's a cocktail with bone marrow, a glass of wine, or an Aussie beer, we will be excited to serve anyone who walks through our doors."
Currently Maker is open Tuesdays to Sundays, from 4pm to midnight – expect that to change once the food menu is available.
Send via Email