By Deborah Jackson, editor National Liquor News
Tasmania-based Southern Wild Distillery has released a new range of gin called Dasher + Fisher with three unique gins crafted using ingredients inspired by the Tasmanian landscape.
The gins are named after the two wild rivers, Dasher and Fisher, which run through the snowmelt of Cradle Mountain, and there is three varieties: Mountain, Meadow and Ocean.
Crafted by local distiller George Burgess in Devonport, all three gins use the 'Tassie trio' of botanicals – native pepperberry (mountain), lavender (Meadow), and wakame (Ocean), sourced from local growers.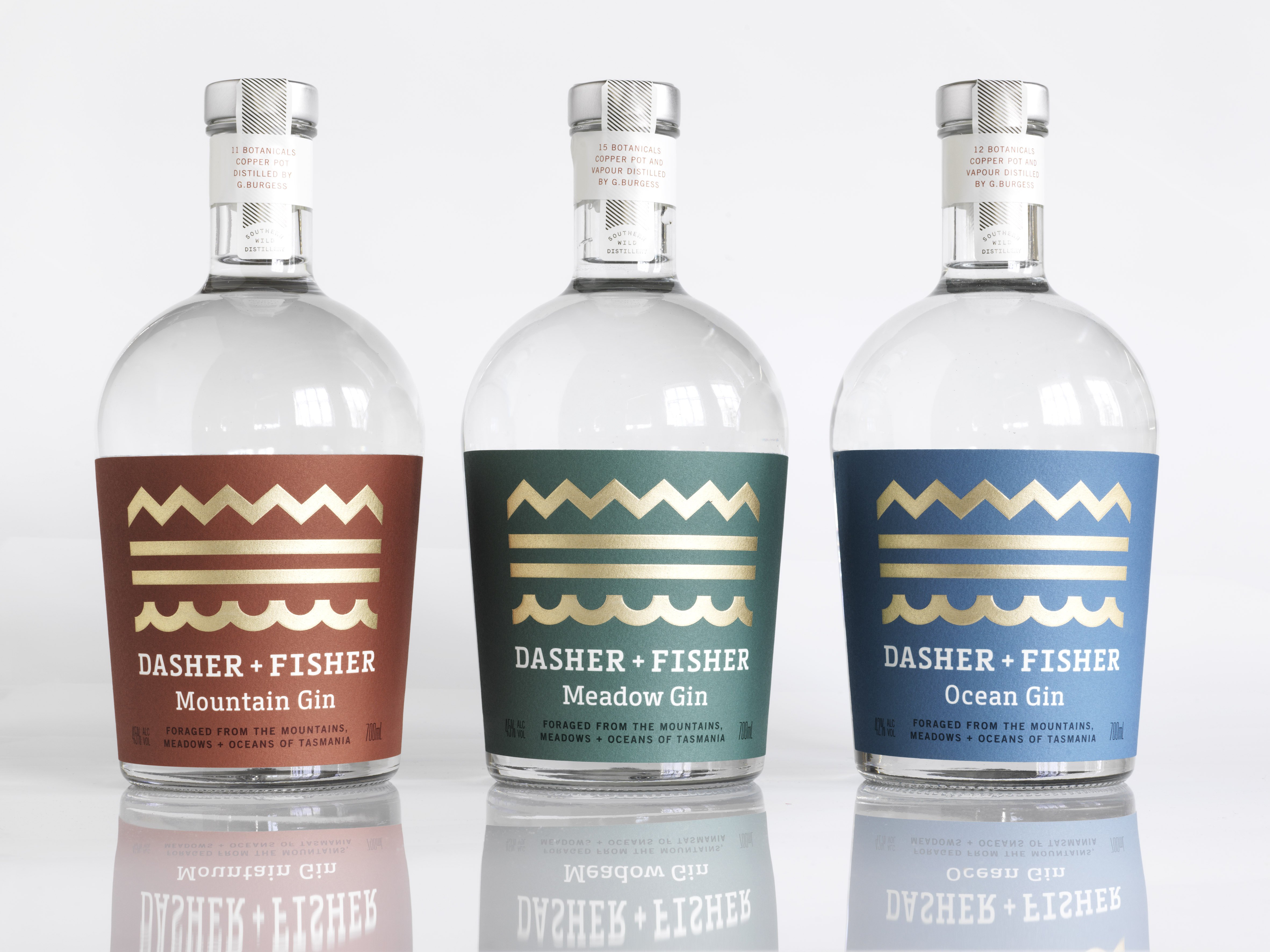 Burgess said that the Dasher + Fisher gins have been created to pair perfectly with food.
"We set out to create a new kind of gin, and we think we have done it. The three Dasher + Fisher gins are first and foremost 'eating gins', best tasted with food and created with food in mind."
Dasher + Fisher gin is made in a unique copper still that was designed by Burgess and handmade in Tasmania by Stillsmiths. The design maximises the vapour process to produce the smoothest possible spirit. The still holds botanicals in three different zones, making the distilling process slower and gentler, which best showcase the botanicals local flavours. They are distilled from the pure water that Tasmania is renowned for, including the two rivers Dasher and Fisher.
"Each gin uses local ingredients, from high on Cradle Mountain to the freezing, clear waters of the Southern Ocean, which results in the gins being truly seasonal and varying slightly with each batch," said Burgess.
"The local environment of the North-Western coast of Tasmania is some of the most pristine in the country, and home to the finest artisanal producers and farmers. Local producers are supplying us with their ingredients, many of whom I've known for decades. Divers harvest the wakame by hand, while the lavender and pepperberry are foraged on the remote hills of North East Tasmania. Some of these ingredients I was growing in my own garden when I was experimenting with recipes."
The local community was instrumental in creating these gins, from the producers who provided the botanicals, to Stillsmiths who engineered and built the copper still, and the builders who created the distillery.
Mountain Gin
Tasmanian Dry Gin
A classic London Dry style with a Tassie twist has 11 botanicals that hero the native pepperberries and herbs found on the way to Cradle Mountain. The fragrant alpine freshness and woody juniper tastes of eucalypt with a bitter pepper undertone.
Garnish Suggestion: a fresh sprig of lavender or rosemary
Meadow Gin
Tasmanian Modern Gin
15 botanicals showcase the lavender and oranges picked from local gardens and fields. Wild meadow florals like lavender and sage with overtones of freshly picked oranges remind you more of the Amalfi Coast than Bass Strait.
The sweet, hot palate gives way to an echo of juniper.
Garnish Suggestion: a slice of ruby grapefruit
Ocean Gin
Tasmanian Coastal Gin
12 botanicals that uncover an abundance of wakame seaweed from the chilly Tasman Sea. Complex and layered, it has aromas of seaweed, ocean spray, and fresh rose petal with nori, jasmine and roast peanut flavours.
Garnish Suggestion: a piece of radish
Send via Email