Drambuie has relaunched with a brand new look and to celebrate is hosting its first global Instagram cocktail competition.
William Grant & Sons acquired the Drambuie brand in 2014 and the unveiling of the refreshed logo and bottle design is just the first of many modern twists they have planned for its future.
Inspired by its rich heritage which dates back to 1745, the new Drambuie bottle has developed in both shape and design to evoke the liqueur's beginnings as Bonnie Prince Charlie's 'personal elixir' and to reflect its evolution into a highly-regarded bartender essential.
The new bottle styling is a modern interpretation of classic design with stronger shoulders and a slight taper. The bottle is cast in dark amber glass and topped with a red cork closure to evoke the design of the 20th Century, when Drambuie came of age as the integral ingredient in the legendary Rusty Nail.
The Drambuie liquid will remain true to its well-kept secret recipe and will remain unchanged.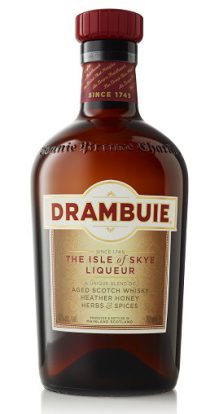 Freddy May, Global Ambassador for Drambuie at William Grant & Sons commented: "Drambuie has come a long way since it was first made and today it's an essential in the finest bars around the world. We're very proud to own an iconic liqueur that has been a premium mainstay of cocktail culture for more than a hundred years, and the new design is the first of several modern twists we have planned for Drambuie's future."
To celebrate, Drambuie is inviting bartenders from around the world to participate in their first global Instagram competition, running until 19 November.
To enter, bartenders need to create a unique cocktail, or a twist on a classic (it must be one part Drambuie), and post a photo or short video to Instagram.
Along with the image, bartenders need to include your cocktail's name, your inspiration and the recipe details using the hashtags #Drambuieandyou #Drambuie.
Five winners will be chosen to travel with Freddy May to the Isle of Skye in 2018 for "a once in a lifetime Drambuie experience".
Full T&Cs can be found at: http://drambuie.com/drambuieandyou/invitation/
Send via Email