Li Tong of Lotus Lounge in Guangzhou, China has been crowned the 2017 Global Patrón Perfectionists Cocktail Competition winner, with her cocktail 'Dancing Bees'.
After winning the Chinese finals of the Patrón Perfectionists Cocktail Competition in Hong Kong, Li travelled to Hacienda Patrón in Jalisco, Mexico where she competed in the semi-finals on January 17 2018, against competitors from 15 other countries.
Li went on to secure a place as one of the top six in the Grand Final the following day, where she was joined by fellow finalist, David Robinson of Hot Tamale in Darwin.
She was also joined by finalists Omer Gazit of 223 Cocktail Bar in Tel Aviv; Tim Devriendt of The Cobbler in Ghent, Belgium; Greg Almeida of Scarfes Bar at Rosewood Hotel, London; and Jin Woo-Lee of The Four Seasons Hotel in Seoul, South Korea. Li did enough to impress the judges and emerge victorious in the hard fought competition.
In 2017, Patrón spread their search for the perfect cocktail to five continents; according to Patrón, entrants were tasked with creating a "simply perfect Patrón cocktail that reflects the passion, precision and care that goes into each expertly crafted bottle of ultra-premium Patrón Tequila."
About the competition, Li said: "The competition has been amazing – I have met a lot of new friends and learnt a lot during the journey. The Patrón Perfectionists Cocktail Competition has been so exciting, I've been dreaming about seeing real agave and my dream has come true.
"I'm so excited to have won, and can't wait to go back to China and tell my family. Perfection comes from the heart, it's passion and it's doing what we love, winning the competition has given me so much confidence to keep going and do something special as a bartender."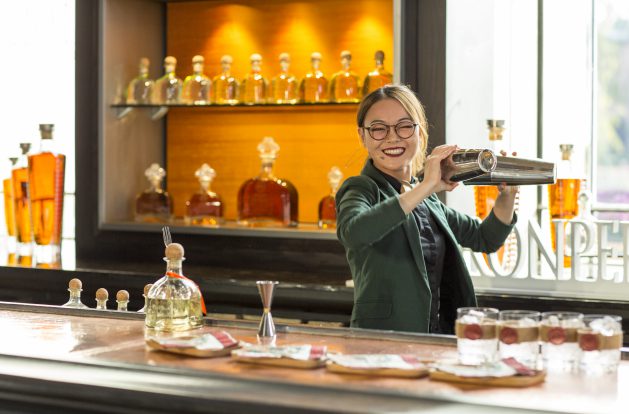 Flying the flag for Australia in the global final was David Robinson of Hot Tamale, Darwin, and his cocktail 'The Last Frontier'.
"The Patrón Perfectionists Cocktail Competition is the biggest tequila competition in the world," Robinson said. "I am so passionate about tequila, so being a part of this journey was amazing, let alone getting into the top six! Li Tong is a force for be reckoned with, she truly deserved to win!"
'Dancing Bees' (Li Tong) recipe:
60ml Patrón Reposado tequila
10ml Yellow Chartreuse
20ml Chamomile yuzu shrub (several pinches of dried chamomile, 200ml yuzu puree, 200g sugar, 50ml, apple cider vinegar, 200ml water)
15ml Monin passionfruit syrup
30ml Lime juice
Soda water
Method: Place in all ingredients bar soda water to a Boston shaker with ice. Shake and strain into a rocks glass. Top with soda water.
'The Last Frontier' (David Robinson) recipe:
50ml Patrón Reposado tequila
15ml Patrón Citrónge orange liqueur
5ml Campari
40ml Smoked pineapple and ginger tepache
15ml Fresh lime juice
Method: Rim a Rocks glass with chipotle salt and set aside. In one tin of a shaker, combine all of the ingredients with ice. Shake until chilled and combined, then strain into the rimmed Rocks glass. Garnish with dehydrated pineapple and pineapple leaves
Send via Email