With World Class Global just around the corner in Miami, we got the down low from Aussie champ Charlie Ainsbury on just what sort of challenges he is facing, how he is keeping focused as the big competition approaches, and how those playing along at home can support #Chinoforthewin.
How are you feeling in the lead up to Miami?
It's been crunch time – all the recipes are due in two weeks before so that was Friday so I've just been in the bar bright and early and all the way until close perfecting the drinks. So Friday is a little sense of relief then I'll just be all preparation – making lists and packing and making sure I have everything. It's stressful as well.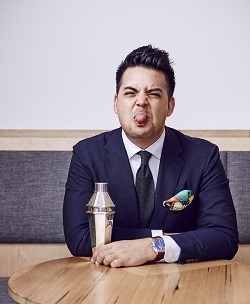 So, with the challenges, what is really pushing you?
It's always been a bit the same in a way, there isn't really one sort of theme to it but I guess Miami is part of it. Every challenge tests you on every aspect of being a bartender and not just a drink-maker. The first challenge is Before And After – which is basically making an aperitif drink and a digestif drink, though it's put into the setting of a restaurant. So it's more about how cocktails can fit into a restaurant setting. The twist to that is that the digestif has to be served on a trolley.
The second challenge is called Shape of Things to Come which is kind of like World Class in a Glass – so three drinks and it's like "you're supposed to be the best in your country, tell us why you're the best in your country – what is the future of cocktails". It's extremely open ended so it's a bit of a tricky challenge.
There is the Pool Party – this one is really tripping me out. The scenario is set in a rooftop pool bar in Miami and they're going to have a wheel of fortune and when they spin that wheel it will land on one of four famous American couples and those couples theoretically walk into the bar and I have to make them a drink. Obviously we know who the couples are and we have time to prepare but the challenge is about, as a bartender, you set up your bar every day and you have certain ingredients and bespoke ingredients, and it's all about how you interact spontaneously with people – as spontaneously as a challenge can be anyway.
The fourth challenge before elimination is a whisky blending challenge – and it's insane. Get this – we have to identify eight single malts from a list, so that's eight blind tastings. Charles Joly, the 2014 winner is going to create a blend of five of those, and we have to identify which five he has used and the ratio in which he has used them. And then, that blend will go into a classic cocktail of his making and we have to identify the ingredients in that cocktail and what the cocktail is. It's a series of blind tastings in every format.
How on earth do you prepare for that?
Well, we know the list of whiskies and I have them all in the bar, so I'm just going to be blind tasting them and tasting all the cocktail recipes. But then, I essentially just have to make blends myself. I know there is going to be five so I can guess that they're not going to use much smoky whisky or very strong whisky. So, depending on how demonic they want to be with this, they'll most likely go with something safe. But even that you can guess there will be more of the milder whiskies and less of the heavier ones. It's the whiskies in the middle that are tricky. So we've started to play around with blends in the bar and try and identify what they do.
Then after elimination?
After elimination, it goes down to 12 people, and then we have to do the Speed Round – which is called American Classics. And it's so complicated. They've given us a deck of cards with all the drinks on them and each of those represents a different spirit and cocktail. So at a minimum we have to pick one drink from every category, and then we make those. But there are a lot of variations – involving point allocations – on that and you can build your round however you want. So there are 12 drinks maximum. But! Before your round starts, the judges will draw two "jokers" from a list of 10 Bulleit cocktails and we have to include those into our round. And one of them has to be a twist.
Again – how are you prepping for that?
A lot of the drinks all have similarities, so I'm trying to draws as many similarities as possible, because that will eliminate doing too much work, then obviously shortcuts where possible. Not to take away from technique but being smart about it. And you're somewhat allowed to batch things – so it's all about organisation and practice. And knowing all the joker cocktails and your Bulleit twists.
So then after that they will decide the top six and then those people get to do the pop-up bar like last year. So essentially, we get 24 hours to create a concept for a pop-up bar. There has to be three drinks, and this is where you get to go to a prop house, you get a budget and they have a team to help you with the bar and then those bars will be next door to the stage where they make the announcement. It's a massive event. So all of the judges who work over the entire event walk around and hang out in your bar for 15-20 minutes while you entertain them and make them drinks.
Then after that, I collect the trophy and come back to Australia.
Love the confidence!
Yeah, just trying to envision it, you know.
So this is a huge time dedication as much as anything – how are you fitting it in around running the bar?
The guys at the bar have been really cool, and we've adjusted the rosters so I'm only working Friday/Saturday and after submitting the recipes it's kind of good to be on the bar as well. It keeps you limber for the speed round and stuff. I can practice drinks in front of guests and see what they think too.
How does a competition that is this intensive help you be a better bartender?
When you're being judged on almost everything you're doing behind the bar it makes you more aware of how you are as a bartender and it's a really good thing. You think about everything behind the bar. People say that the bar is like a stage – the movement and your presence behind the bar – so if you do well in the comp, and even if you don't, it's a great gage of how you are as a bartender. Comp bartending is not real bartending, but doing enough of them makes you consider everything that you do. Which is important because it's not just about making a tasty drink. It's the way you look, the way you interact with people and the way you make them feel and all that sort of stuff.
Who came up with the hashtag?
It's the same one from two years ago – there is #Chinoforthewin, #GoChino, and #ChinoChinoChino. In 2014 Charles had #InJolyWeTrust. It's such great support.
Any final words?
This is the last comp I am ever going to do. This is the final hurrah. No more. Everything is going into this one.
Tune into the live stream throughout the competition via www.theworldclassclub.com
Send via Email