Two of Australia's top boutique distilleries, Four Pillars and Archie Rose, will both be releasing specialty gins next Thursday, June 1.
Four Pillars will release the 2017 vintage of their Bloody Shiraz Gin – which sold out in only four months last year after being launched in 2015 – while Archie Rose will launch the second in a series of four rare gins produced in collaboration with tattoo artist Horisumi, the 'Archie Rose X Horisumi – Winter.'
Four Pillars Bloody Shiraz Gin 2017
Four Pillars Bloody Shiraz Gin, Vintage 2017, is the Victorian distillery's third crack at a gin that "started as a whimsy and has become something of a phenomenon."
In 2015, the team at Four Pillars steeped 250kg of uncrushed Shiraz grapes in high-proof gin for eight weeks, plunging the berries each day. Slowly the juice turned a deep purple colour, with the spice and pepper notes of the Shiraz combining with the citrus and juniper notes of the gin.
After two months, the juice was gently pressed and bottled, just in time for World Gin Day 2015; the Bloody Shiraz Gin turned out to be a hit, and the 600 bottles produced were sold out in only a few weeks.
In 2016, the Four Pillars team upped their game and used two tonnes of Shiraz, which was still not enough to meet demand – selling out again in a matter of months. So, for 2017, 10 tonnes of Yarra Valley Shiraz was sourced, and the same careful process has been used to produce the unique gin.
"There were no rules making it so there are no rules on how to drink it," says Cam, Stu and Matt from Four Pillars. "Do with it as you please. We can almost guarantee it will make you smile."
Archie Rose X Horisumi – Winter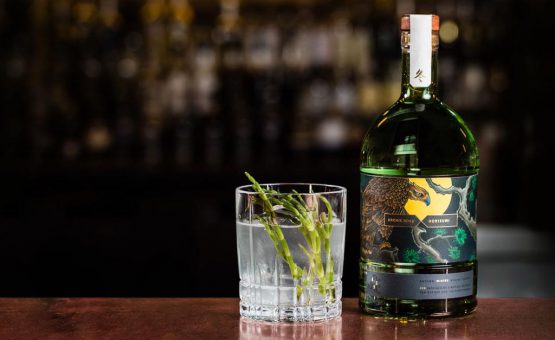 Sydney distillery Archie Rose will also release their second in a series of four collaboration gins with tattoo artist Kian Forreal, who operates under the traditional Japanese tattoo name of Shodai Horisumi, on June 1.
Each of the gins in the series pays homage to Japan's distinctive seasons; 'Archie Rose X Horisumi – Winter' has been created to conjure the familiar scents of the colder months and the freshness and purity of winter air, as inspired by Horisumi's illustrations.
The gin is described as grassy and herbaceous yet slightly sweet, and is a perfect complement to the colder months with Sencha and Genmaicha tea distillates evoking a winter tea drinking experience.
"This collaboration is one inspired by a mutual respect for nature and the hand forged," says Archie Rose Master Distiller, Dave Withers. "We therefor experimented with a wide range of ingredients that included trialling multiple varieties of seaweed distillate including nori, wakame, and different types of kombu before settling on a Tasmanian harvested and cured example.
"We were keen to bring some of that maritime influence into the gin and kombu offered a salinity which balances the sweetness of the Fuji apples. This juxtaposition of salt and sweet is an important element of Japanese cuisine and one we have drawn from to enhance both flavours simultaneously."
Archie Rose recommend enjoying Horisumi – Winter in a classic G&T, using Fever Tree Elderflower Tonic and white grapefruit, or served up as a gin martini using Maidenii Dry with a grapefruit twist.
The release of both gins comes just in time for World Gin Day, held internationally on June 10.
Send via Email