One of the world's top bartenders Ryan Chetiyawardana (aka Mr Lyan) has partnered with friend and collaborator Doug McMaster, of Brighton's zero-waste restaurant Silo, to launch Cub at the former White Lyan site in September.
The venue will be a luxury, sustainable, drinks-led dining experience and marks an inaugural moment for both parties: the Mr Lyan team's first full foray in the world of dining and McMaster's first venture in London.
Cub will sit above the recently launched basement bar Super Lyan, and will be the pair's own modern interpretation of what a restaurant can be.
Going beyond just food pairing, Cub will blur the boundaries of food and drink by approaching them as a united entity – marking a return to how both parties define the dining experience.
Ryan Chetiyawardana, twice named UK Bartender of the Year and Tales of the Cocktail 'International Bartender of the Year' in 2015, says that the launch of Cub is all about pushing boundaries.
"We want to keep pushing boundaries (and keep things weird!), but in a way that feels accessible and honest as well as exciting and modern.
"Cub will be the continuation of these conversations but taking them in a new direction – looking at how we can rejoin the worlds of food and drink, and showcase the importance of innovation and sustainability to a wider public."
Chetiyawardana's first bar, White Lyan (pictured below) opened in 2013, and was voted World's Best New International Bar in 2014 at Tales of the Cocktail and was also included in the World's 50 Best Bars list in 2014 and 2015.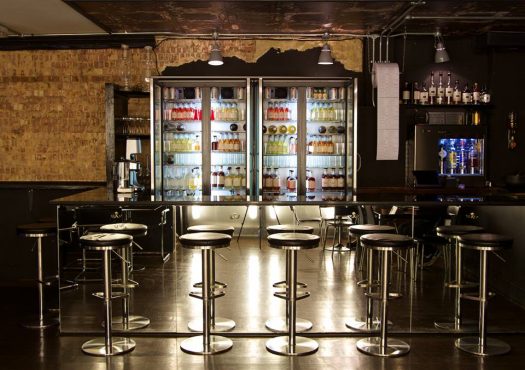 White Lyan was also named the number one place to drink in London by Time Out in 2015 and Most Creative Bar in 2016. In a bold business move, White Lyan closed in April 2017 for two new venues – Super Lyan, and soon Cub – to launch in its place.
His second bar Dandelyan ranked third in the World's 50 Best Bars 2016, and was awarded Drinks Menu of the Year, Hotel Bar of the Year and Bar of the Year at the CLASS Bar Awards 2017.
The team at Cub will work with partners Krug Champagne, Belvedere and LMVH, with further input from Dr Arielle Johnson – former resident scientist at Noma.
Working with Johnson, the venue will become its own ecosystem with experimental ingredients grown on site as part of a program to research the effects of the environment on food growth and flavour.
They hope to strike up a modern, fresh conversation around sustainability – an increasingly ubiquitous topic in hospitality, and one that White Lyan was fundamental in bringing into the minds of the bar world.
Further details about Cub will be announced closer to the opening date in early September.
Send via Email