Archie Rose Distilling Co. has launched the third of four gin collaborations with tattoo artist Horisumi, this time to mark the change of seasons as winter makes way for spring.
Horisumi – Spring celebrates the spirit and atmosphere of Japan's most beautiful and fragrant season; the gin's label, hand-illustrated by Horisumi, depicts the hare, or 'usagi', a symbol of fertility in Japan and a trusted talisman against bad luck, who sits observing a bloom of vivid cherry blossom or 'sakura' dancing in the spring breeze.
As with previous Horisumi gin incarnations, Horisumi – Spring is inspired by the label artwork.
Chrysanthemum offers tones of white musk, Australian-grown yuzu leaf brings its unique herbaceous and citric accents; combined with the supple sweetness of fresh red shiso, the result is a bold but subtly nuanced gin.
Horisumi – Spring begins sweet on the palate and builds in intensity as floral notes burst into life on the finish.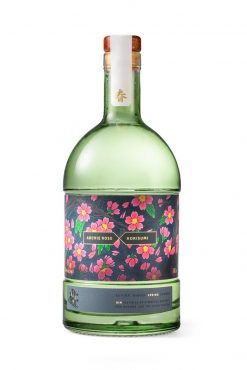 "The production team tested a large range of different botanicals," says Master Distiller at Archie Rose, Dave Withers. "The Yuzu leaf was handpicked in Australian orchards specifically for this gin and the red shiso was imported direct from a Japanese grower."
"We labored through countless iterations and slightly adjusted distillation techniques to achieve a balanced result. Horisumi –  Spring is a lively expression, markedly different from the two distinct expressions that came before it."
The gin's release follows autumn and winter releases of the same series, with the Rosebery distillery collaborating with Japanese tattoo artist Kian Forreal, who operates under the traditional Japanese tattoo name of Shodai Horisumi.
Suggested serves include a classic G&T with Fentimans Light Tonic and rockmelon or mandarin, or the 'Gokouyo' cocktail which blends the gin with yuzusuhu, elderflower liqueur, lime and apple juice and sugar.
Send via Email