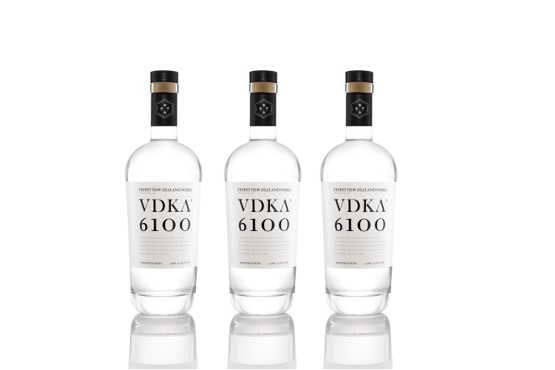 Australian owned boutique spirits sales and marketing company, Artisan Spirit Merchants Pty. Ltd. (ASM Liquor) has unveiled VDKA 6100, its latest ultra-premium vodka from New Zealand.
Launching to critical acclaim and exceptional sales in New York, New Jersey and Florida eighteen months ago, it is now Australia's turn to experience this brilliant ultra-premium vodka.
VDKA 6100 is sourced from the pristine natural environment of Reporoa on New Zealand's North Island near Lake Taupo in the Bay of Plenty Region. VDKA 6100 is fermented using fresh seasonal whey and a strain of yeast that has been hand cultivated in Reporoa for over 30 years.
It is then finely distilled and filtered through a complex filtration system than includes carbon dosing and carbon rockets to strip out any remaining impurities. It is finished by blending with outstanding natural New Zealand spring water to deliver an unrivalled crisp clean taste.
The result is a smooth, elegant and distinctive vodka with a luxurious creamy mouth feel and hints of citrus and pepper.
VDKA 6100 is gluten free, sugar free, lactose free and free from all nasty chemical additives.
Nick Mann, General Manager of ASM, added:
"The secret to VDKA 6100 is its source in New Zealand and in its composition from whey, which not only adds to the purity but gives the vodka a great rounded mouthfeel. New Zealand is one of the most pure places on Earth. Isolated out in the South Pacific, it is pristine and relatively untouched by pollution. This makes it the perfect place to source a great vodka and pure spring water.
From a branding perspective, VDKA 6100 is elegant and understated. Fastidious attention has been paid to every detail from the vodka itself to the packaging and the branding. We believe that a brand does not need to shout to express luxury. We have a great product and we hope that consumers will do the shouting for us.
The packaging, the label and the bottle, were designed in New York by a renowned designer Joe Doucet. Australian based independent advertising agency Cummins & Partners have helped up with the advertising and consumer messaging from their New York office. We are very lucky to have been able to work with such talented people on this project."
Mr Robert De Niro, a friend of ASM Liquor, helped with the design, packaging, branding and positioning of VDKA 6100. He is keen to see the project succeed and will be involved in some consumer and trade incentives, later in the year.
VDKA 6100 is available nationally, in all channels, in 750ml (RRP $69) and 1 Litre (RRP$85) bottles at 40% ABV.
Send via Email