By Madeline Woolway, Hospitality Magazine 
Zebra Bar is the newest addition to Merivale's Queens Hotel, which opened late last year in Enmore. The new bar joins The Smelly Goat cocktail bar upstairs, while Queen Chow restaurant occupies the venue's ground floor.
Designed collaboratively by Justin and Bettina Hemmes, Kelvin Ho of Akin Creative and stylist Amanda Talbot, the space features an onyx marbled horse-shoe bar, dark stained timbers, deep green and gold adornments, a green and off-white checkered tiled floor, and a safari-inspired mural.
The cocktail list is curated by The Smelly Goat team, featuring classic cocktails made with unconventional ingredients, like Queens' take on the Bloody Mary; the Genghis Can with Wyborowa vodka, tomato, hoisin, sriracha and shitake; and 'Churchill's Delight' with Avion Anejo, Lillet Blanc, and Lapsang Souchong.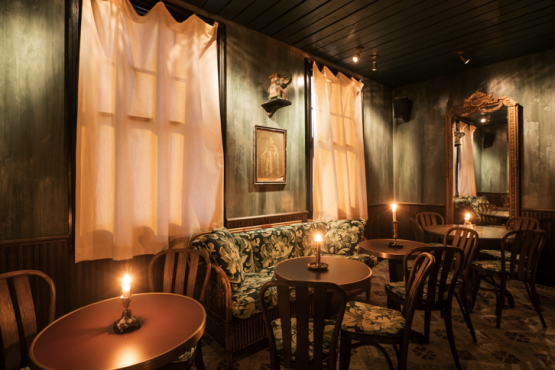 Guests of Zebra Bar can also dine on a selection of dishes from the Queen Chow menu, led by Papi Chulo's Christopher Hogarth and Patrick Friesen, and former Mr. Wong dim sum master Eric Koh. The group menu can be pre-ordered or selected on the day, with dishes including aromatic duck spring rolls, pan fried and baked dim sum platters, salt 'n' pepper squid with chili bean mayo, and Sichuan pork noodle boxes.
Narissa Matthews from Queens Hotel explained that while Zebra Bar will work in tandem with The Smelly Goat, "they are very much their own space."
"We like to push group bookings and functions into Zebra which frees up the Goat for walk-ins who want to chill in The Goat and enjoy the cocktails it has to offer."
Zebra Bar is open Monday-Thursday 5pm-late, Friday and Saturday 12pm-late, and Sunday 12pm-10pm. The space can cater for one group of 20-40 guests or multiple small groups totaling a maximum of 30 guests.
Send via Email