Content sponsored by Husk Distillers
Moonshine is, to the notorious gangsters and rum runners of the 1930s American Prohibition era, what 'New Make' spirits are to today's burgeoning craft distillers, but with one important difference: nobody paid taxes on moonshine!
The distorted, irrational and unfair (for drinkers and distillers) Australian excise regime is fodder for another article on another day, but New Make spirits are increasingly being re-invented by innovative craft distillers around the world and are fast becoming a growth category set to invigorate the modern cocktail scene.
In Australia, craft distillers from Mt Uncle in North Queensland to Redlands in Tasmania, from Baker Williams in Mudgee to Archie Rose in Sydney, have all released New Make spirits in recent years. RASV's Australian Distilled Spirits Awards even featured them as an important growing category in the craft distilling scene – but what exactly is a New Make spirit?
Paul Messenger, Founder and Distiller at Husk Distillers, Tumbulgum, explains that the New Make category can include any whiskey, rum, brandy or tequila spirit fresh off the still prior to aging.
Gin and vodka are excluded – vodka because it's a highly rectified neutral spirit and gin because it's a redistilled neutral spirit. But any other alcohol freshly distilled from fermented wash is basically a New Make when it flows from the still.
A distillers decision to develop and release a new make product can be as varied as the products on offer. It's not widely known, but Husk Distillers, makers of Ink Gin, have been crafting Australia's only paddock-to-bottle agricole rum on a cattle and cane farm on the NSW north coast for the last six years.
The reason this is not well known is that of the 50 or so barrels produced so far from their hand cut, freshly crushed sugar cane, only a handful have been released. This includes the first barrel from their 2012 harvest, Husk Virgin Cane Rum, which sold out in three days back in December 2015, and the limited release 1866 Tumbulgum Rum, released last year to mark the 150 anniversary of their riverside village of Tumbulgum.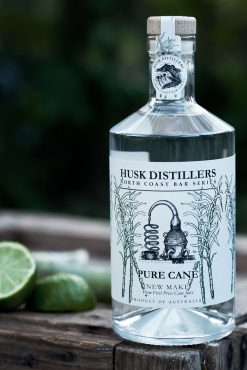 Messenger says he's "in no hurry", and is content to wait for his expression of Australian agricole rums to "tell him when they are ready". His main objective was always to produce fine, aged sipping rums.
However, when a local Brazillian bartender from a top notch north coast bar visited the distillery during last year's cane harvest and tasted what was coming off the still, he was so impressed he wanted to buy some bottles of their New Make agricole.
"We told him it wasn't for sale but he convinced us that it should be, and with fond memories of sipping fresh, ice cold Ti Punch (muddled lime, raw sugar, lots of ice and a couple of shots of new make rum agricole) in French Martinique I wasn't hard to convince," recounts Messenger.
"So we gave him a couple of bottles to experiment with and what followed that summer was a series of lazy days sipping on some of the best damn cocktails around, starting off with an Australian version of the French Ti Punch (Brazillian caipirinha) and quickly moving to mojitos and daiquiris with a bit of local personality, followed by a range of difficult to name but easy to drinks summery inventions."
Husk Distillers have pioneered agricole rum production in Australia, putting an Australian spin on the French Caribbean style of rum making. While the distillery is still young and better known for their innovative Ink Gin, the few rums they have released have all picked up prestigious awards, promising good things to come.
Pure Cane is the first New Make spirit the distillery has released, and it's been well received at home and overseas.
And according to Messenger, New Make spirits are here to stay.
"New Make spirits look set to become an important element of the bar scene in Australia in the months and years ahead," he said.
Send via Email