Taking inspiration from the Caribbean, Cuba and Southern America, Saint Lucia's tropical mix of barbecue and rum brings a slice of island paradise to Chapel St in Windsor.
Caribbean cuisine is set to be the latest foodie trend, blending aromatic, sweet, tart and mild citrus flavours – which also pair well with rum and tropical cocktails.
Saint Lucia's drinks list fuses the many flavours of the Caribbean, with white, gold, dark and spiced rums and a collection of tequila from all over the world including Jamaica, Mauritius, St Lucia, India, France, Haiti and Trinidad, served neat or in a range of cocktails.
Signature cocktails include the 'Roll-off Rum Punch', which mixes orange, pineapple, lime, ginger, dark rum, light rum and a house made three-spice syrup, and the venue's take on the classic Mojito made with dark rum, mint, lime, sugar and soda.
The owners (and husband and wife duo) Stephanie Harris and Charlie Ranken have a combined 35 years' experience in hospitality, but it was a trip through the Caribbean and American Gulf Coast that inspired them to open their own bar and restaurant.
The smooth tunes, tropical cocktails, flavoursome dishes and friendly, unpretentious hospitality on the tiny island nation of Saint Lucia provide the restaurant's namesake as well as its guiding philosophies.
The interior is part cocktail bar, part modern Caribbean restaurant, with quirky colourful accents, eclectic trinkets and lush greenery throughout, and a hint of personal flair from co-owner and artist Stephanie Harris.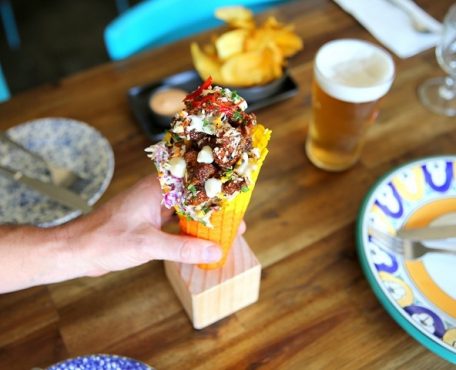 On the food side of the equation, the 'Kokomo Kone' (pictured right) looks set to be an Instagram hit, featuring jerk BBQ fried chicken, slaw, charred corn, lime mayo, candied scotch bonnet and toasted coconut served in a waffle cone.
Other dishes include the 'Mac 'n' Cheese Mini Donuts' with chilli cheese dipping sauce, 'Coconut Braised Goat Tacos' with pickled cucumber, candied scotch bonnet and toasted coconut and 'Chorizo and Goats Cheese Cigars' with piquillo pepper sauce.
Sounds like a good way to stay warm through the gloomy Melbourne winter.
Send via Email