Last month, the Kraken Black Spiced Rum took over The Vic On The Park Hotel in Marrickville, as the Kraken Karnival transformed the venue for a two-day festival of darkness.
And although the Karnival was in town for just one weekend, for those in Sydney and Perth, the Kraken has left behind a range of Karnival gear which will now tour the two cities and exhibit in bars throughout the months of August, September and October.
The Kraken Karnival paid homage to the historic 1817 battle of the Kraken and the Lighthouse, depicted by a four-metre helter skelter slippery-dip wrapped in the attacking tentacle of the Kraken.
The hero cocktail at the Karnival was a twist on the Espresso Martini, garnished with white Persian fairy floss – which acts as an additional sweetener to sugar syrup, altering the amount required to sweeten the drink.
Also, as Persian fairy floss doesn't dissolve as fast as traditional fairy floss, the garnish was able to float on top and slowly dissolve into the cocktail.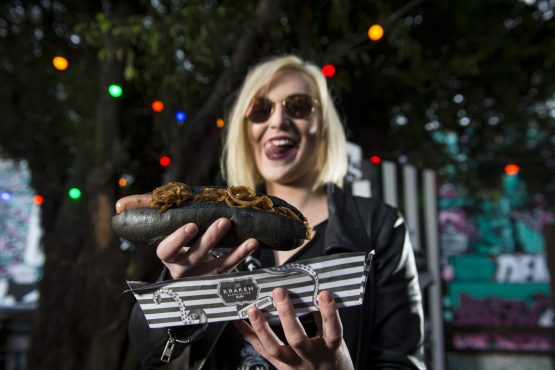 The event also introduced the Kraken-infused black hotdog (pictured above), with caramelized onions and ink dyed black buns, as well as a Kandy bar which offered black toffee apples, black and white lollipops and black popcorn.
Participating venues in Sydney and Perth will offer the Kraken Espresso Martini with Persian Fairy Floss for a limited time only, and with each sale, punters will receive a coupon to exchange for the black popcorn.
Brand ambassadors will also man a ticket booth where this exchange will take place, showcasing elements of the activation to a broader audience.
For more information and details on participating venues, head to the The Kraken's Facebook page.
Send via Email