An innovative new glass design called the Wave Glass has launched, designed to eliminate the use of plastic straws in bars and restaurants.
The first of its kind, the Wave Glass has been six months in the making, and utilises "revolutionary dual-chamber technology" that ends the need for a straw while drinking.
An internal wall breaks the glass into two chambers: one holding liquid mixed with crushed ice and garnish, while the other acts as the "drinking chamber" – allowing only the chilled liquid from the bottom of the vessel to be sipped.
This Must Be The Place in Sydney will be first bar to stock the Wave Glass this month – a good match given that sustainability and plastic waste reduction have been a top priority for owner Luke Ashton and his team since opening in 2015. The bar has already eliminated the use of plastic straws, and the glass was also developed with the help of Ashton.
Australians use over 10 million single-use straws a day, and even though they're now in the top ten of all ocean pollutants, they are still very popular.
The Wave Glass's creators were inspired by this need to protect the ocean, teaming up with The Last Straw to support their cause and come up with a solution.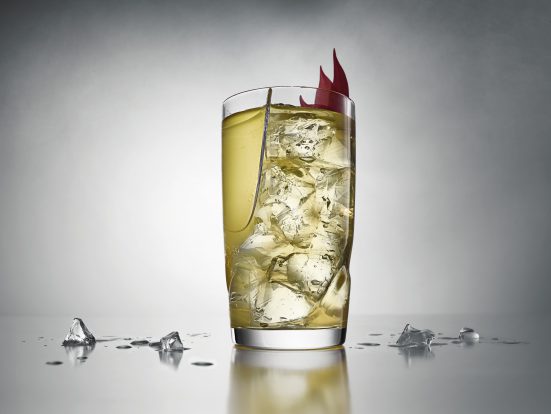 "Over the last few years the plastic straw has almost become a symbol of the waste-free movement," says Eva Mackinley, founder of The Last Straw. "People, where possible, have widely changed their thinking and behaviour around disposable plastic straw use.
"While the market is becoming full of disposable alternatives vying for primacy, I have always believed the heart of it is about just using less, or engaging with BYO and reusable options. The Wave Glass design offers the convenience of a straw but without the disposable factor. The future of sustainability is material innovation and out of the box design solutions like this."
Ashton has also designed an exclusive cocktail for the launch of the glass, named 'Nu Wave' (pictured above). Taking inspiration from the flavours of countries that have had their coastlines affected by plastic waste wash-up, the drink features Talisker Whisky, young coconuts from the Pacific Islands, pandan from Thailand and lemon myrtle from Australia.
And while only 50 of the bespoke, handblown glasses have been made so far, the company's ambition is to replace straws completely, across bars far and wide.
Send via Email