By Andy Young, Editor The Shout
Melbourne bar Black Pearl has won big at the 2017 Spirited Awards, which form part of the Tales of the Cocktail, having been named the Best International Cocktail Bar.
The award comes ahead of Black Pearl's 15th birthday next month. The bar's Chris Hysted-Adams, who was in New Orleans to collect the award, was understandably delighted.
Taking to Twitter to celebrate the win, Hysted-Adams said: "Shit the bed. Best International Cocktail Bar at Tales of the Cocktail. Big love to and from the Pearl famiglia."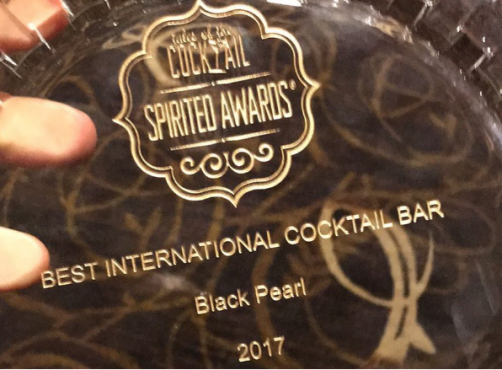 Black Pearl's win this year follows similar success two years ago at the 2015 Spirited Awards, when the bar was named Best International High Volume Cocktail Bar.
The bar has also enjoyed recent success at the Australian Liquor Industry Awards (ALIA), having won the Best Cocktail List award in 2016 and Best Bar in 2015. At the time Hysted-Adams put the credit for the Pearl's success firmly at the feet of Tash Conte, who owns Black Pearl with her brother and parents.
"It all stems from Tash and her family. Over the last 15 years they've set it up and anyone who is introduced into the bar, they're effectively introduced right into the family as well. That attracts a certain type of person, it attracts like-minded people as the years have gone on," he said.
The Spirited Awards recognise writers, brand ambassadors, bartenders and bars from around the world, with winners voted on by two panels of over 100 industry experts.
"The Spirited Awards get more and more competitive because our industry keeps raising its game every single year," said Ann and Paul Tuennerman, Co-Founders of Tales of the Cocktail. "Congrats to this year's winners on monumental accomplishment."
The awards also name the World's Best Bar, which goes to the bar with the most votes across the Best High Volume Cocktail Bar, Best Hotel Bar, Best Restaurant Bar, Best Cocktail Bar and World's Best Cocktail Menu categories.
This year the World's Best Bar award went to London bar Dandelyan. The full list of Spirited Award winners is below:
AMERICAN CATEGORIES
Best American Bar Team
The NoMad Bar (New York)
Best American Brand Ambassador
Misty Kalkofen (Del Maguey)
Best American High Volume Cocktail Bar
Sweet Liberty Drinks and Supply Co. (Miami, FL)
Best American Restaurant Bar
Dante (New York)
American Bartender of the Year
Jeff Bell (New York)
Best American Cocktail Bar
Columbia Room (Washington, D.C)
Best American Hotel Bar
The Hawthorne at Hotel Commonwealth (Boston)
Best New American Cocktail Bar
BlackTail (New York)
INTERNATIONAL CATEGORIES
Best International Bar Team
Dandelyan (London)
Best International Brand Ambassador
Camille Ralph Vidal (St. Germain)
Best International High Volume Cocktail Bar
Trailer Happiness (London)
Best International Restaurant Bar
Tippling Club (Singapore)
International Bartender of the Year
Shingo Gokan (Shanghai)
Best International Cocktail Bar
Black Pearl (Melbourne)
Best International Hotel Bar
Dandelyan at the Mondrian (London)
Best New International Cocktail Bar
Swift (London)
WRITING CATEGORIES
Best Cocktail and Spirits Publication
Hot Rum Cow
Best New Cocktail & Bartending Book
Smuggler's Cove: Exotic Cocktails, Rum, and the Cult of Tiki by Martin and Rebecca Cate
Best Cocktail & Spirits Writer
Wayne Curtis
Best New Spirits Book
Bourbon: The Rise, Fall, and Rebirth of an American Whiskey by Fred Minnick
GLOBAL CATEGORIES
Best Bar Mentor
David Wondrich
World's Best Cocktail Menu
Trick Dog (San Francisco)
Best New Spirit or Cocktail Ingredient
ITALICUS – Rosolio di Bergamotto (Italy)
World's Best Spirits Selection
canon: whiskey and bitters emporium (Seattle)
World's Best Cocktail Bar
Dandelyan (London)
Lifetime Achievement Award
Charles Schumann
Send via Email