Sydney's James Irvine (Swillhouse Group) has taken out the Australian leg of the Bacardi Legacy Global Cocktail Competition, and will now represent his country on the global stage in Mexico City.
Earlier this week, more than 150 of the industry's top names gathered at Darlinghurst's Eternity Playhouse to witness three of Australia's finest bartenders strain, stir and shake it out in the Australian finals of the BACARDÍ Legacy Global Cocktail Competition 2017/18.
After much deliberation following slick presentations and delicious tipples from challengers Vini Wang (Hains & Co.) and Zach Underwood-Mynott (Canvas Bar), Irvine and his cocktail – named 'Bocado' – emerged victorious.
Irvine's drink Bocado was judged not only against the ingredients and methods used to create it, but also the expertise in marketing the drink to the public.
In the end, it was Irvine's inspired use of Bacardi 8 coupled with a flair for promotion both on and off stage that won over the panel of judges – consisting of previous winners Fred Siggins and Dave Kerr, as well as the now Singapore-based Jason Williams.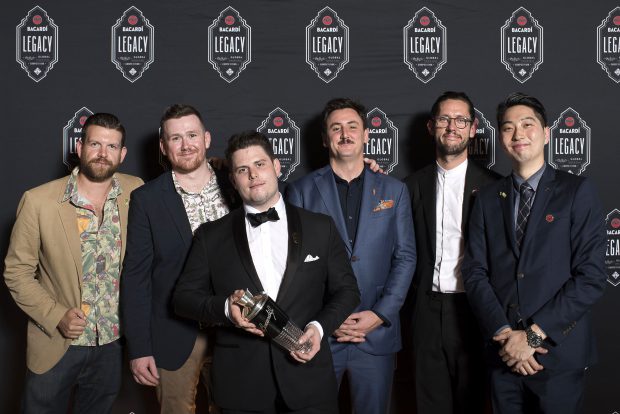 With his win, Irvine has realised his dream of a Bacardi Legacy title – having competed in the finals three years ago –  and is now looking forward to representing Sydney and Australia on the global stage in Mexico City in April.
"I'd like to thank and congratulate the two gentlemen to my left [Wang and Underwood-Mynott] that have both put up a great campaign over the last three months," said Irvine upon receiving the title.
"More importantly, what Dave Kerr summarised just now was that we're not changing lives here, but I do think we could make the argument that we make them a little more fun – so thank you to all of you guys who came out tonight.
"Massive thank you to Bacardi-Martini global for putting on such a great competition and such a great platform – it's an honour to be representing this great country in April."
Irvine also takes home a raft of prizes, including promotional, stocking and financial support from Bacardi nationally and in his hometown. The public will be able to try Bocado from select bars around the country in March.
Bacardi-Martini Australia Marketing Director Jonathan Sully said of the evening: "Seeing three titans of the artful craft of bartending going head to head under such high pressure is truly inspiring. Their passion for creating a legacy of their own shone brightly, and the judges had their work cut out for them picking a winner."
Bocado – James Irvine (Recipe)
50ml BACARDÍ Gran Reserva 8 Años Rum
12.5ml DeKuyper Creme de Bananes
10ml Noilly Prat Original Dry Vermouth
10ml Palo Cortado Sherry
3 Drops Rosemary Oil
Garnish: Garnish with 3 drops of rosemary oil, creating a drizzle effect.
Method: Stir all ingredients (except rosemary oil) in a mixing glass filled 3/4 full of quality ice. Once chilled and diluted, strain into a chilled cocktail glass with a single, dense (preferably spherical) piece of ice.
Glassware: Skyscraper coupette
Send via Email