Australia's finalist in the Angostura Global Cocktail Challenge (AGCC), James Irvine, has said that he is excited about competing in next month's global final.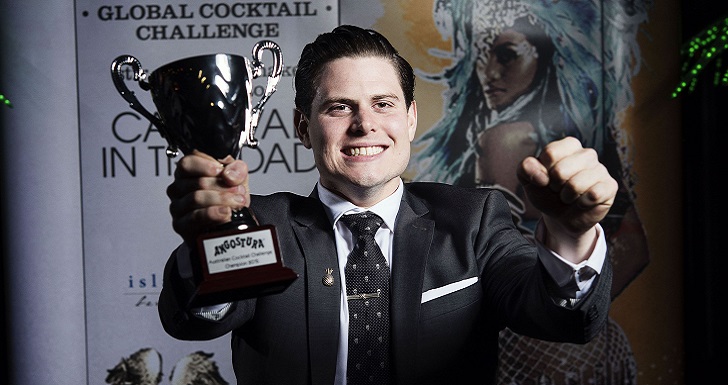 The competition will take place on February 7 in Trinidad and will feature 12 finalists from around the world, competing for the US$10,000 prize and the two-year role of Angostura global brand ambassador.
Irvine booked his place in the global final in September, after he won the Australian final with his Mr Trinidad and Toco Beach cocktails. He will be aiming to make it consecutive wins for Australia after Mike Tomasic took out the last final.
"Heading into the Global Final I feel prepared, excited and accomplished to be able to say that I'm travelling to the Caribbean to represent Australia, doing what I love doing," Irvine said.
"And that feeling of accomplishment could only be topped by winning the AGCC Global Final. In doing so, it'll mean back-to-back Australian champions and an overall fourth crowning. Quite the feat.
"I look forward to competing on the global scene and seeing what the other contestants bring to the table. I'm expecting the creativity, presentation and the all-round experience to be the best in the business. It's no secret that the AGCC is one of the biggest cocktail competitions in the world and to be a part of it truly is a feather in the cap. Not to mention, the closing party is Carnival.
"Here's to a successful endeavour in the Caribbean. Let there be fun, sun and rum."
The competition requires each finalist to make two cocktails in seven minutes: A 'Freestyle Cocktail' which must feature Angostura orange bitters combined with any type of alcohol, and a 'Rum Cocktail' made with one or more of Angostura's international rums and Angostura aromatic bitters.
Irvine will be competing against 11 other finalists: Neal Ramdhan of Trinidad and Tobago, Cameron Attfield of New Zealand, Daniel Vestman Erikkson of Sweden, Manachain Monaghan of the UK, Seo Yong Won of South Korea, Matheus de Freitas Cunha of Brazil, Jonathan Strokowski Ross of Canada, Nikita Khlopyanov of Russia, Dino Jose Batista of South Africa, Paul Peterson of St. Maarten and Elizabeth Mickiewicz of the USA.
Send via Email