With the number of venues increasing all the time, creating the right atmosphere and adding that little something that makes your guests want to return is more important than ever. But what to add and where to start? With a lot of popular concepts now approaching saturation point, adding some theatre rather than changing up your concept could be the way to go. However, according to Grant Collins, owner of Sydney's The Powder Keg and international consultant through his company, barsolutions, the most vital factor is not adding theatre simply for the sake of having theatre.
"Everything's got to make sense," says Collins. "We put an immense amount of thought and research into everything. And I think too many people chase the gimmick."
He says that while a lot of people chase the "bells and whistles" and the "smoke and the flames", he works backwards with his team to ensure that any theatrical elements – including drinks – make sense in the space, by having a tie-in to the theme, and even the name, of a venue.
"When we came with a concept of what The Powder Keg was going to be, what the real anchors of the concept were, obviously the drinks came into that," he says. "And it's a matter of getting the mix right."
1. SMOKE & MIRRORS
While it may seem like a great idea to simply pour liquid nitrogen into an existing cocktail and deliver a smoking drink to your customers, there is a fair bit of thought that has to go into  constructing a cocktail menu that has plenty of theatre.
"Even though a lot of our things look gimmicky, it's all about quality," he says. "We work backwards, so we build the drink in first then we build the X factor in on top of it."
Firstly, cover all the bases. According to Collins, if your guest wants a great classic cocktail they should be able to get one – not everyone wants a drink that will shoot flames. Another thing Collins is big on is experiential drinks – that is, bringing all the senses into a drinking experience.
"It's got to be visually stimulating, there's got to be a scent or a smell that goes with it as well, then obviously the taste has got to be great," he says. "I love seeing people get excited by what they're seeing, because that's exactly what we're trying to do, we're trying to stimulate the brain."
Collins believes in playing with physiology – whatever you taste, whether food or drink, your brain tells your stomach to get ready for something nice. So if you stimulate a customer's brain their drink is going to taste a lot better – though Collins also says that customers are still often surprised that their drinks actually taste great as well as looking amazing.
"It really is about quality first in this day and age," he says. "It's got to taste bloody good. It doesn't matter what else it does. We work really hard on making it all work."
Experiential cocktails have world wide appeal, appearing at Artesian in London – the 'world's best bar' – in the form of the "Unfolding and Exploring" portion of their menu, an innovative cocktail collection that is relaunched every year with a new selection. It includes the Digidiva (pictured above), described as a "3D elixir" that changes flavour with every sip. Hong Kong concept bar Origin has a menu that features a range of intricate gin-based cocktails, including the popular KGB (pictured below) – a gin martini that is served in a mini bath tub complete with tiny rubber ducky and edible bubbles – which head mixologist Antonio Lai designed to invoke happy childhood memories of taking bubble baths.
2. SHOW SOME FLAIR
While not everyone has the ability to "bump" their way through creating a cocktail, there is a lot more to flair bartending than meets the eye. And according to Simon Hough, managing director of  Perth bar The Flour Factory, flair bartending has a place in any venue – within reason.
"It's all about timing," says Hough. "Appropriate timing for performance style of bartending is definitely important. It depends on the person – if they're confident and fully trained it can really
be effective."
Hough says he bases all of his repertoire on "controlled working flair", however he reinforces that it isn't all about throwing bottles or shake tins, sometimes it is simply a very personal style of service, unique to the bar or the bartender.
"It's really a big grey area of performance," he says. "It can be anything really. It's about style and getting your bartenders to have a bit more style about them."
It is an opportune way to create buzz about your venue – whether it is aerial work or simply a classic cocktail bar offering precision, and clean service (which Hough insists is a flair style in and of itself due to the skill required). However, Hough also notes that anybody can throw bottles and mix drinks. That said, if you can do all of that while creating a quality product for a customer then you will be one up on a lot of venues.
"Some people think it's just chucking stuff and that just throwing bottles around is ok," he says. "But it's not. It's all about the service, service has to come first."
3. MAKE IT PERSONAL
Personal, and personable, service can create theatre in the simplest terms. As Hough points out, having a hook or a niche for your venue creates instant theatre, however, he says that backing it up with someone who looks happy to be setting something on fire and enjoying themselves creates a further experience for the customer.
"It looks a lot better when someone is there with a big smile," he says. "If you've got somebody who's got a bit of personality and not just a bit of cardboard behind the bar trying to do something cool, then you've got theatre. It's really simple to give a little bit more to the clients than just doing a process."
Collins could not agree more, pointing out that he has yet to do a "serious" concept in any of his bars.
"We just want to create a fun environment," he says. "I always think bars should be an escape from life when you've not had a great day in the office or a good week. And that's all part of the theatre so you can have a bit of fun when you go out."
He is outspoken on the topic of bartenders that take themselves too seriously, believing that escapism is one of the best things a bar can offer, along with the allure of great cocktails and a bit of theatre around cocktail service. Simply offering a themed bar is not enough.
"They become a bit staid after a while to be honest," he says. "Once you get in there and you're getting served by a bartender who takes his job way too seriously, it all gets a bit much for me. So we just try to have a bit of fun with it really."
He always tries to make his bars fun and to encourage staff that enjoy themselves and enjoy creating the cocktails on the menu.
4. THE SOUND OF MUSIC
Live music is an easy way to create atmosphere and draw crowds to a venue, however, getting the balance right can be an issue. Anna Scott, co-owner of The Little Guy in the Sydney suburb of Glebe believes that live music can not only create theatre in a venue without much effort, but also creates a central role for a venue within its community.
"When we have live music the bar is alive, there is more energy and people are drawn into the upbeat vibe," she says. "The fact that we support so much live music brings the community together, whether it be through mutual love of music or our open mic night which is incredibly social and welcoming."
That said, it isn't for the faint-hearted. Though punters often lament the loss of live music venues around the country, Scott points out that it isn't easy for a venue to turn a profit despite higher numbers of customers coming to enjoy the music.
"Live music certainly draws more of a crowd and bar sales are higher although it would be nice to see more support of it," she says. "Often it's hard to make a profit – after paying the musicians well – and it's hard to see the benefits."
Live acts aren't the only way to introduce fun, entertaining theatre to a venue. The Little Guy runs a competition called Jukebox Hero. Scott says the event is basically "a customer Spotify DJ championship", something which is both interactive and fun.
"For us, patron enjoyment is our number one priority and what better way to do so than getting them involved and giving them some control," she says. "Particularly when it comes to music selection – because everyone thinks they have the best taste in music, right?"
She jokes that the competition came about simply because the bar staff were getting sick of taking music requests.
The important thing here is to read your clientele – The Little Guy caters to a mixed crowd of drinkers who are happy to be known by name and turn their hand to DJ-ing for an evening for some fun. In other venues, a simple live act selection could be a better choice. Assess your audience then proceed accordingly.
5. THE LITTLE BLACK BOOK
Rather than a selection of phone numbers for nefarious purposes, this is instead a hidden cocktail list that has to be requested. While the concept of a secret menu that a customer has to ask for is nothing new – as anyone who has been to In-N-Out Burger in the States can tell you – the point of having one is simply to make your customers feel like they are in on a hush-hush feature of the bar. It is instant, subtle theatre. Just make sure it suits your bar's concept. For example, The Powder Keg's secret menu has a few gin-themed surprises in its pages.
"We've got a little black book which you have to request from behind the bar," says Collins, "And it's got a load of really obscure 16th century gin cocktails in it."
It's a bit of fun, and certainly an eyebrow raiser, to entertain the bar's more adventurously-minded customers.
6. FOOD, GLORIOUS FOOD
Food can also create a touch of theatre in a venue. While Collins counts himself lucky to have a chef who loves the theatre of presenting food in an interesting way, and cooking with gin for that matter, there is more to it than that. Originally conceived as a waiting room for their ridiculously popular dumpling restaurant Charlie Dumpling, the team behind Ba Charlie in the Melbourne suburb of Windsor went above and beyond on their food offering in an effort to continue the wow factor – more on that in a moment – but also to offer patrons something a little left of centre.
They certainly succeeded, with their cheeseburger dumplings catching the attention of guests and the media alike. General manager Kathy Gamble is pleased with the effect of the menu.
"It really captured people's imaginations," she says. "I think the food is definitely a drawcard."
7. TAP THE THIRD BRICK FROM THE LEFT
Ba Charlie has the added thrill of being hidden in plain sight. What started as an idea for a takeaway dumpling space and waiting room for Charlie Dumpling visitors, soon became a hidden bar that has become popular in its own right.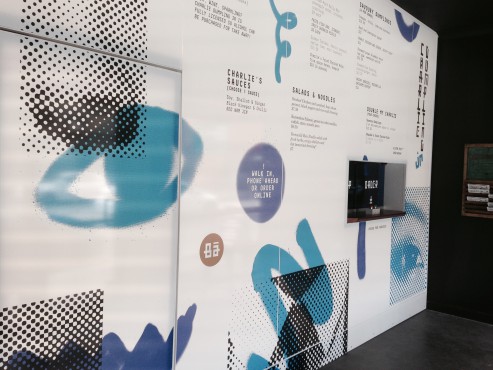 "We see people walking past at night, and the door will suddenly open," says Gambell. "And the looks on their faces – they're quite incredulous."
The bar was partly inspired by the American bars that excel at the speakeasy-style hidden door, with the architect first floating the idea of the blank, illuminated menu wall (pictured above), according to Gambell.
"What we really liked about it – we wanted to not make it too complicated – was that we hadn't really seen it before," she says. The contrast of the front-of-house brightly, lit takeaway dumpling area and the darker, more moody bar area, instantly creates an atmosphere that is backed up by the attention to detail in the venue. With the new cocktail menu due to be released soon, the team have been finessing a list that appeals to a broad variety of their patrons – testing what is popular and culling what isn't.
"The idea of giving them something to interact with has definitely been what we have seen work with the customers. It creates a good rapport." she says. "But the prime focus at the bar has to be the beverages. The guys have spent a lot of time developing their cocktail list."
The hidden entrance idea has plenty of precedent, with speakeasy-style bars in the US perfecting the art of hiding themselves away, while still being in high demand and full of drinkers; a clear indication that there is a solid, cohesive concept at work behind the bar, rather than a reliance on a gimmick to draw in the crowds. The most famous has to be Please Don't Tell – or PDT as it is commonly known – which can be entered through a phone booth in the back of a hot dog shop. Guests use the rotary dial on the phone to get a host who will let them in.
Elsewhere, the Noble Experiment in San Diego is a bar within a bar. Located inside Neighbourhood, a popular craft beer bar, one can simply push on what looks like a stack of old, empty kegs by the bathroom to enter a whole new world. In Chicago, Maria's Packaged Goods & Community Bar is hidden behind an unmarked door in a small, unassuming-looking liquor shop.
Send via Email