By Madeline Woolway, Hospitality Magazine
The Poernomo brothers — Ronald, Arnold and Reynold — have opened a new venue in Sydney's Chippendale.
Adjacent to their iconic dessert bar Koi, Monkey's Corner marks the entrepreneurial trio's first foray into Sydney's small bar scene, offering guests a short, sharp menu and expertly edited cocktail list.
The brothers have taken inspiration from classic Asian flavours, collaborating with cocktail consultant, Quynh Van Nguyen (Charlie Parker's) to design drinks such as the Pandan Ginger Pisco Sour — a refreshing cocktail that takes the aromatic pandan flavour and pairs it with the zing of ginger, rather than the sweet flavours normally associated with pandan.
Also featured on the cocktail list are the Litchiti Martini with Plantation 3-star rum, Fino sherry, lychee and rose and the Highball Rhubarb Bitters with chrysanthemum soda and whiskey.
Crafted with cocktail pairing in mind, small plates include whipped Silver lake smoked eel on toast and ox tongue with beef fat, lime and chives. Desserts have been made in partnership with Koi and include the Koi Bobba with Thai milk tea and dulce creamux, tapioca pearls, hazelnut sponge, freeze dried mandarin and salted caramel ice cream.
Light colours and natural materials give Monkey's Corner a fresh, bright ambience, while its situation in a petite, heritage listed terrace with space for just 20 seats provides an intimate setting. Sharp lines and design — inspired by Japan's bars — give the space a modern edge.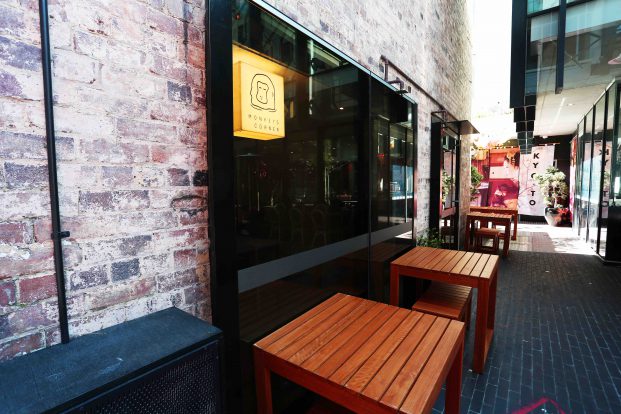 Send via Email