A gin aged in 'Ice Pressed' Chardonnay barrels has been launched by SouWester Spirits, artisan distillers from Margaret River in Western Australia.
SouWester Gin builds on the classic botanical foundations of juniper and coriander seed – infused with local, native botanicals such as finger limes and saltbush – and is six-times distilled with Margaret River rainwater.
The use of Ice Pressed Chardonnay barrels, sourced from Margaret River wine producer Fraser Gallop Estate, adds hints of vanilla and toasty oak for added flavour and complexity.
Founder Danielle Costley, formerly a wine journalist and food author, says it was a "natural progression" to turn her hand to distilling with native botanicals from the south west of the state.
"I began SouWester Spirits with the simple ethos of creating spirits of provenance. As no one else in the world makes an Ice Pressed Chardonnay, this gin is unique and rare," says Costley.
"I have taken no short cuts with this barrel aged gin, having sourced locally grown organic native finger limes (and having the cuts to prove it!) and biodynamic saltbush.
"Trials of these botanicals in particular have led to a beautifully balanced product. The barrels reside only metres from the surfing beaches in Margaret River, further adding to the gin's coastal influence."
And while this sense of place and provenance is fundamental to Costley and her SouthWester brand, it was gins from another Australian state that initially inspired her.
"I am a big fan of the barrel aged gins that are being produced in Tasmania," she explained to BARS&clubs. "As they also have a pristine environment and waterways, my aim was to create a premium gin akin to those being produced in Tasmania, whilst paying homage to the Margaret River wine region by ageing them in the IPC barrels."
Only 300 bottles of the gin have been produced, with each bottle individually numbered and hand bottled in Margaret River; as for suggested serves, Costley says that a premium gin such as this should always remain "the star of the drink".
"I like to serve it over a large ice cube with a dash of a clean tonic such as the CAPI Dry or Fever-Tree light tonics. It is also great in a martini and with a sprig of rosemary. When finger limes are in season, I use slices of finger limes to garnish as well.
"As it's a savoury style of gin with the vanilla and toasty elements coming through from the barrel, you could smoke some salt and put it around the rim of the glass for something different."
Costley also has a single malt whisky currently sitting in a second Ice Pressed Chardonnay barrel – which she plans to release mid-next year – as well as plans for another unique barrel aged gin which should debut later this year.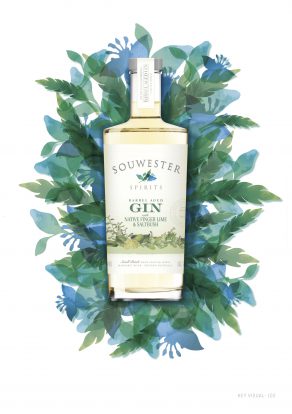 Send via Email