There was a strong showing for Australian distillers at the San Francisco World Spirits Awards, the results of which were announced last week.
In total, there were more than 5,500 entries into the awards, with judging held between 13 and 15 April at the Hotel Nikko in San Francisco. The contest is adjudicated by a panel of distinguished international judges from across the spirits and hospitality industries, with legendary bartender Jeffrey Morgenthaler serving as Chief Judge.
Best in the business
Products from 17 Australian distilleries picked up double gold medals, which are given when every judge at a table awards a product a gold medal.
In terms of total medals won, Archie Rose Distilling Co. was the most successful Australian entrant, picking up a total of 14 medals, including two double golds for its Signature Dry Gin and Bone Dry Gin. The distillery's Stringybark Smoked Single Malt also won a gold.
Another single malt producer, Cape Byron Distillery, was in the medals, with its Original Whisky expression winning a gold. Co-founder and distiller, Eddie Brook, was delighted by the performance.
"We are ecstatic to receive the news that our Cape Byron Original Whisky has won Gold," Eddie said.
"The San Francisco World Spirit competition is the equivalent of the Olympics for distilled spirits. To be awarded a gold medal is a huge accolade and speaks volumes to the quality of our Whisky," he added.
Morris Whisky also picked up multi double gold medals, seeing its Muscat Barrel, Signature and Cellar Reserve Muscat Barrel single malt whiskies all winning the top gong. The distillery's Sherry Barrel single malt was awarded gold.
Morris Head Distiller, Darren Peck, expressed his pride at the results.
"We're thrilled to see our Morris Australian Single Malt Whiskies acknowledged on the global stage. It is a real honour to be recognised at the San Francisco [World Spirits] Competition – the entire Morris Whisky team are ecstatic," Peck said.
"Awards like this really help us to reflect on the quality of the ingredients we have available to us in Rutherglen and the great liquid we're able to produce in Australia. It's so fulfilling being able to craft these whiskies each day and great to see the world is loving them just as much as us."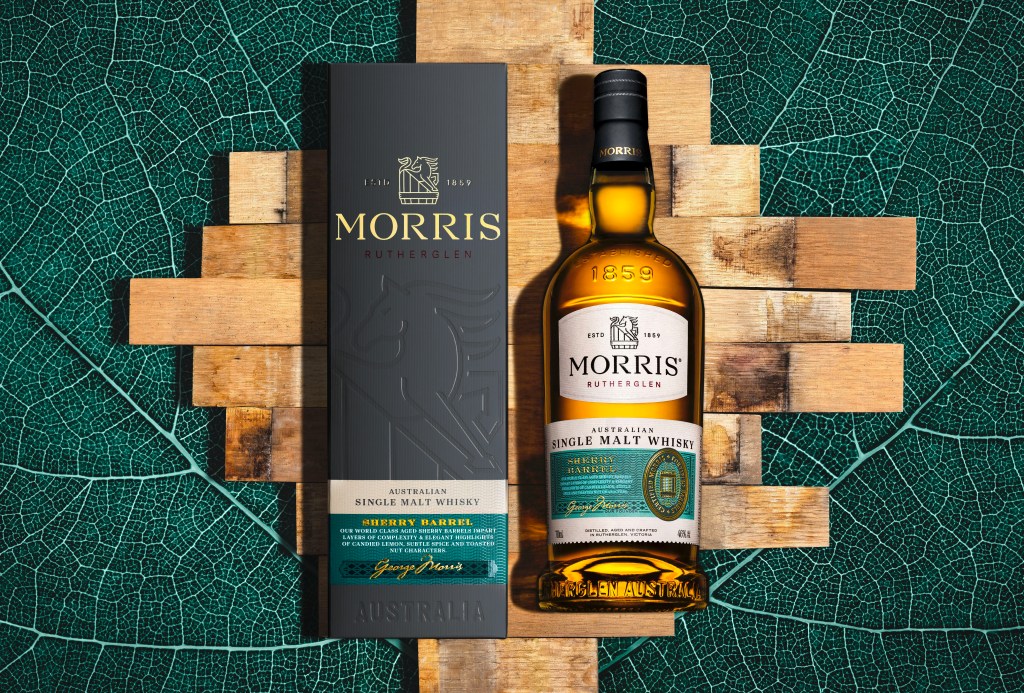 Flagships awards including Best in Class will be announced at a ceremony in Las Vegas on 17 June, with Morris Whisky and Australian distillery Ginny Pig (already a double gold winner for its Botanic gin) in the mix, along with Wharf St. Distillery for its Citrus Gin, which also won a Double Gold alongside the Wharf St. Distillery Pigface Gin.
Wharf St. Distiller and Co-founder, Jesse Roche, was glad to see the company's gins do so well in a strong field.
"Of course, we entered with the hopes of bagging a medal. We were confident our gins were top-notch, but you never know what you're up against," Jesse said.
"The field is a collection of the world's best, and we've only been doing this for just over a year – so obviously, we are stoked!"  
While fellow Co-founder Tim Cooke said: "We are so thrilled to be recognised for our signature Citrus Gin. It's incredible to know the 75 judges blind-tasted so many gins and decided that ours was top three."  
Ginny Pig Distiller, Craig Cooper, was delighted to be up for the title of Best in Class.  
"To win this award on the world stage – in the biggest competition in the world – is amazing for us. It means a lot, especially to be in the mix for best in class as well."
Cooper also said that the company was already feeling the financial benefits of the double gold.
"We've already noticed an increase in sales for that particular product because our customers, and indeed, just the general public know more than we think they know. A lot of them are up to speed on who's winning what. It's already increased our sales, but we do think that it will increase even more."
Joy for market entrants
Yarramalong Valley-based distillery, Amber Lane, was another that tasted triumph at the awards. Sales Director Rod Berry told The Shout what it meant for the producer.
"We're absolutely thrilled," Rod said.
In particular, Rod was estatic to have achieved such success so soon after his distillery first released its products.
"These awards came at the end of our first year to market. We first launched in April 2022. First of all we won two gold medals and two silver medals at the World Whiskies Awards in February, and now to back it up with two golds, including a double gold at the San Francisco World Spirits Awards highlights just how exceptional our whisky is, and that it's being recognised globally."
Berry also believes this award will help the distillery access markets in other regions.
"For Amber Lane, it means opening up export markets for us, and we're currently in discussions with some parties in the United States about export to that market… There's much larger markets overseas, mature markets, who have a real appetite for New World Whisky."
Another interesting winner came in the form of Tempus Two's Shiraz Gin. While Tempus Two is an established wine brand owned by Australian Vintage Limited, it has only recently entered the spirits sector.
Australian Vintage Chief Winemaker, Jamie Saint, believes that decision has been vindicated by this award.
"We are extremely excited to receive such a prestigious accolade so early in our spirits journey," Saint said.
Like Berry, Saint sees an opportunity to leverage the award in new markets.
"We're the only shiraz gin to achieve double gold in the 2023 competition which highlights our unique wine spirit is world-class and gives us the potential to increase distribution into the USA and other export markets."
Serial winners
South Australia's 78 Degrees Distillery picked up eight medals in total, including two double golds for its Sunset Gin and Classic Gin, alongside gold medals for the producer's Desert Gin and Bitter Orange. 78 Degrees' Distiller and Operations Manager Tim Gniel, was delighted by the distillery's consistent performance at awards.
"Sunset Gin also won a double gold and 'best in category' at the SFWSC in 2022, so it's great to see our products consistently rewarded year after year," Gniel commented.
"This year's SFWSC results confirm that our spirits are considered some of the best in the world and we're incredibly proud to represent Australia on an international level."
Never Never Distilling Co are a previous winner of Best in Class prize, and achieved a double gold this year round, with Co-founder and Sales Director Sean Baxter explaining that the awards show his brand is on the right track.
"Winning a Double Gold for our Triple Juniper Export Strength again highlights the quality of London Dry Gin that we continue to deliver. It follows up from its Best In Class performance in 2020, the only Australian gin to achieve that mark (although Ginny Pig are up for the gong this year, let's hope they take it out,)" Baxter said.
"The San Francisco World Spirits Competition is still considered one of the biggest and most revered spirits competitions out there and to be successful here is indicative of making some pretty top class gin. It's also incredible to see our Oyster Shell Gin, a bright contemporary style achieve a gold as well, meaning we're doing well in both the classic and contemporary categories.
"While there seems to be as many spirit competitions as new gins these days, it's fantastic to see Australian spirit across the board achieving such high accolades in global awards," Baxter concluded.
See the full list of double gold winning Australian products below:
23rd Street Distillery Signature Gin
78 Degrees Classic Gin
78 Degrees Sunset Gin
Amber Lane Single Apera Cask 087 Australian Single Malt Whisky
Archie Rose Signature Dry Gin
Archie Rose Bone Dry Gin
Banks and Bloom Ice Vodka
Billy Stitch Distillery Dry Gin
Billy Stitch Distillery Berry Mojito Gin
Callington Mill Distillery El Sol Tasmanian Single Malt Whisky
Cape Grim 666 Autumn Butter Vodka Tasmania Australia Flavoured Vodka
Ginny Pig Botanic Gin
Headlands Seacliff Vodka
Headlands Muscat Cask Whisky
Morris Whisky Australian Single Malt Whisky Muscat Barrel
Morris Whisky Australian Single Malt Whisky Signature
Naught Overproof Gin Victoria Australia Gin
Never Never Distilling Co. Export Strength Triple Juniper Australia Gin
Offshore Vodka
Tempus Two Shiraz Gin
Tinberry Distilling Co Signature Gin
Wharf St. Distillery Citrus Gin
Wharf St. Distillery Pigface Gin
Total awards results can be viewed here.
Send via Email