Onyx Coffee Spirits blows traditional Espresso Martini preparation out of the water by eliminating bar issues like wastage, inconsistency, poor quality and over-pricing.
Taking the Australian Espresso Martini market by storm, Onyx Coffee Spirits is showcasing their Coffee Pure in the heaving beachside suburb of Manly, NSW. With cold brew coffee as the core flavour ingredient and numerous industry awards under the belt, it's a must have for bars at the top of the cocktail game.
In local hotspot Donnys Bar, Onyx Coffee Spirits are saving their bar staff time, cutting out pre-batching completely and delivering confidence in a consistent flavour week after week. Broken down to numbers – the restaurant/bar serves 300+ Espresso Martinis a week with an overall saving of 14k+ PA on overall costs.
The Onyx Coffee Spirits team, based out of the Central Coast, NSW have over a decade of experience in the delivering premium coffee products, allowing them to lock in the best coffee bean blends from across the globe.
With quality and consistency at the forefront, Onyx Coffee Spirits have secured long standing contracts with their green bean and roasting suppliers to ensure they deliver the best tasting and most consistent product to their customers.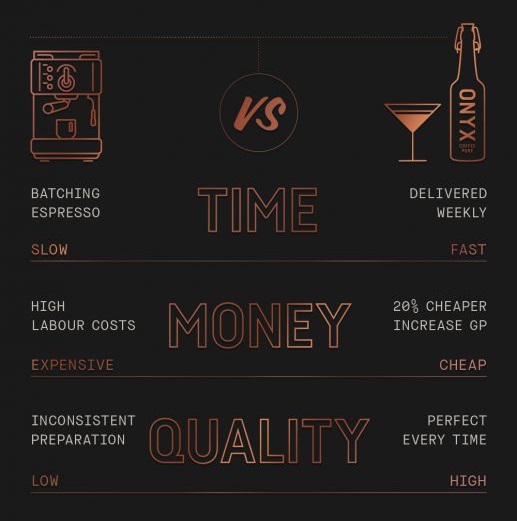 Following an explosive start to 2017, Onyx Coffee Spirits is continuing to add value to its bars with bespoke solutions for coffee cocktails, with an extension into venue showcases and events.
"We believe in a collaborative approach to working with our clients. Being in some of the hottest bars in Sydney we see a massive benefit to working closely with our licensees and even the bar staff themselves. At the end of the day, the guys shaking the cocktails are the ones who benefit the most, so we like to hear what they have to say, and improve the experience for everyone involved." says Mitch Faulkner Founder of Onyx Coffee Spirits and 2x Australian coffee cocktail champion.
"Everybody knows Espresso Martini's are vibing. We are excited that our bars and their staff are looking to innovate and we're stoked about the current evolution of coffee cocktails, with our cold brew and other Onyx Coffee Spirits products at the forefront. "
To trial Onyx Coffee Spirits' award winning cold brew coffee and join in on the Espresso Martini revolution contact Onyx Coffee Spirits below.
Website: www.onyxcoffeespirits.com
Contact: enquiries@onyxcoffeespirits.com
Number: (02) 8880 5296
This post has been sponsored by Onyx Coffee Spirits.
Send via Email