Some may argue that Frank Sinatra was the world's greatest entertainer, but no one would question the fact he was the world's biggest fan of Jack Daniel's. He's even buried with a bottle.
On 12 December 2015, Frank Sinatra would have turned 100 and in celebration of the great man and his love for Jack's fine Tennessee whiskey, the folks at Jack Daniel's have released the exquisite Sinatra Century. The rarest limited edition ever released by the Jack Daniel Distillery.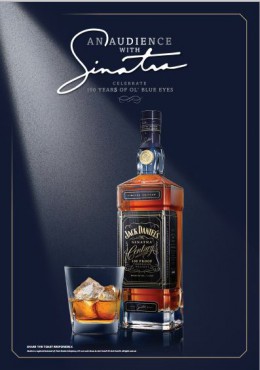 This 100 proof whiskey has been exclusively matured in 100 specially hand-crafted "Sinatra" barrels. Once fully charred, deep grooves are cut in to the interior of the barrels to expose the whiskey to the toasted oak which lies beneath the char line. It is the unique combination of both charred and toasted oak that results in unprecedented bold flavours with ultimate smoothness.
To further celebrate his life and music, a unique and previously unreleased recording of Sinatra playing live at the Sands Hotel in 1966 is included with every bottle.
Every drop of this exquisite and extremely rare whiskey has been hand selected by both the Jack Daniel's Master distiller "Jeff Arnett" and the Sinatra family. The Australian market is limited to just 900 bottles and we will never see this released again – the ultimate collectors item for any Jack Daniel's or Frank Sinatra fan.
Brown-Forman Australia
Level 6, 280 Elizabeth St,
Surry Hills, Sydney, NSW, 2010
Send via Email