Dead Ringer, the much-anticipated second bar from the team that brought us Bulletin Place, has opened in Surry Hills, Sydney, on the site of former tapas bar Emmilou.
With Bulletin Place established as one of the very best bars in Australia, it's no surprise that co-owners Tim Philips, Adi Ruiz and Rob Sloan have created another exceptional drinks offering for their new venue.
Just don't expect Bulletin Place Mark 2. In fact, the name Dead Ringer is an ironic nod to those who thought the boys might seek to replicate their original Circular Quay site. While the service and offering are of the same very high standard, their new venture has a very different design aesthetic – think polished townhouse cum diner – as well as a focus on food.
Cocktails are designed with food in mind, with the menu highlighting drinks appropriate "before", "during" and "after" eating. Drinks include T'Angelo Spritz, a citrus and quinine wine based aperitif that tastes like a cross between an Aperol Spritz and a G&T; Pineapple Adonis, a blend of fino sherry and rosso vermouth garnished with pineapple skin; and the Dixie Cup, a mix of vanilla-infused pisco, ruby port, egg whites and fizz. A cocktail called Obligatory is the quintessential after-dinner drink, incorporating cold drip espresso, maple syrup and tequila.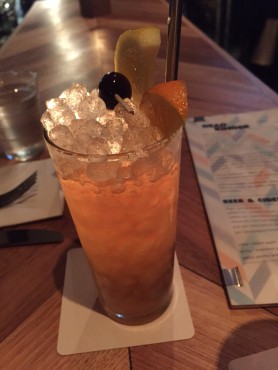 Fortified wines play a seminal role on the drinks menu, with port, sherry and madeira featuring in four of the eight cocktails on the current list.
Guests can choose from a range of sophisticated bar snacks such as creamed almonds (a great alternative to hummus), pork jowl terrine and the prettiest beef tartare imaginable, made with pickled eggplant, potato paper and micro-herbs. Mains include barramundi and mussels; lamb rump with black garlic; and roast chicken with mash and cavolo nero.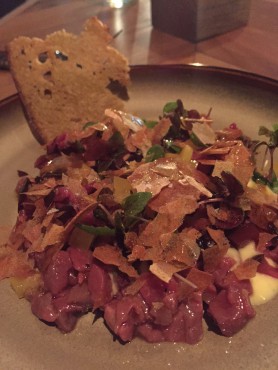 With an alfresco area overlooking the street, Dead Ringer looks set to be a substantial hit this summer.
Dead Ringer, 413 Bourke Street, Surry Hills, NSW 2010.
Sign up for weekly bar industry news straight to your inbox here.
Send via Email