By Vanessa Cavasinni, editor Australian Hotelier
The program for the 2017 Pub Leaders Summit has been revealed, and includes over 20 pub group operators, licensees and managers discussing a variety of topics.
Pub Leaders Summit 2017 will be hold on Monday 20 March at Royal Randwick Racecourse in Sydney. The conference portion of the event will cover a several issues facing hotel operators, including the changing landscape in pub F&B offerings, the place of live music in venues, opportunities for hoteliers within regional Australia, and the many ways to market a pub.
As a national conference, the list of speakers on the day is representative of the variety of operators around the country. Large group operators are represented by the likes of Dan Brady (Redcape COO), Antony Jones (Merivale, COO) and Steve Howarth (ex-ALH operations manager).
Single venue operators will also add their own experiences to the proceeding, with Luke Hiscox (Union Hotel, Newtown), Bhavani Baumann (The Red Lion), and Ben Pearce (Beach Road Hotel) taking part, among others.
Regional operators are also represented with Alistair Flower (Settlers Inn, Port Macquarie) and Sean O'Hara (O'Hara Group) keen to discuss how they've made regional hotels work for them.
Hotels from all over the country are also represented, with Grady Patching of Colonial Leisure Group (CLG) taking part in a couple of different sessions. CLG operates pubs in four different states. Also representing their prospective states are Matthew Nikakis (Rosstown and Racecourse Hotels, Victoria) Alex Farquhar, from The Caxton in Brisbane.
Also taking part in the event is Louise Heffernan, owner of Girl Friday Solutions, a hospitality mystery shopping firm, that has worked with hotels across the country for the last 10 years – her insights into the customer experience at a hotel will be insightful to say the least.
Pub Leaders Summit founder, Paul Wootton, is pleased to offer another highly-regarded line-up of all new speakers for the event's second year.
"I'm particularly excited by this year's program. We've got a really strong line-up of speakers, who represent all that's good about the pub sector in terms of innovation, business know-how and entrepreneurial spirit.
"The content, shaped by their experience and ideas, is going to pack some real punch and I know delegates are in for an enthralling day – one that will help them beef up their own bottom lines and drive their own businesses to the next level."
The program continues to grow, with two sessions still to be finalised and speakers to be added to the listed panel sessions.
The current program is below – to keep up to date with any changes and to purchase tickets to the event (earlybird discounted prices are available until 20 February), visit www.publeaders.com.au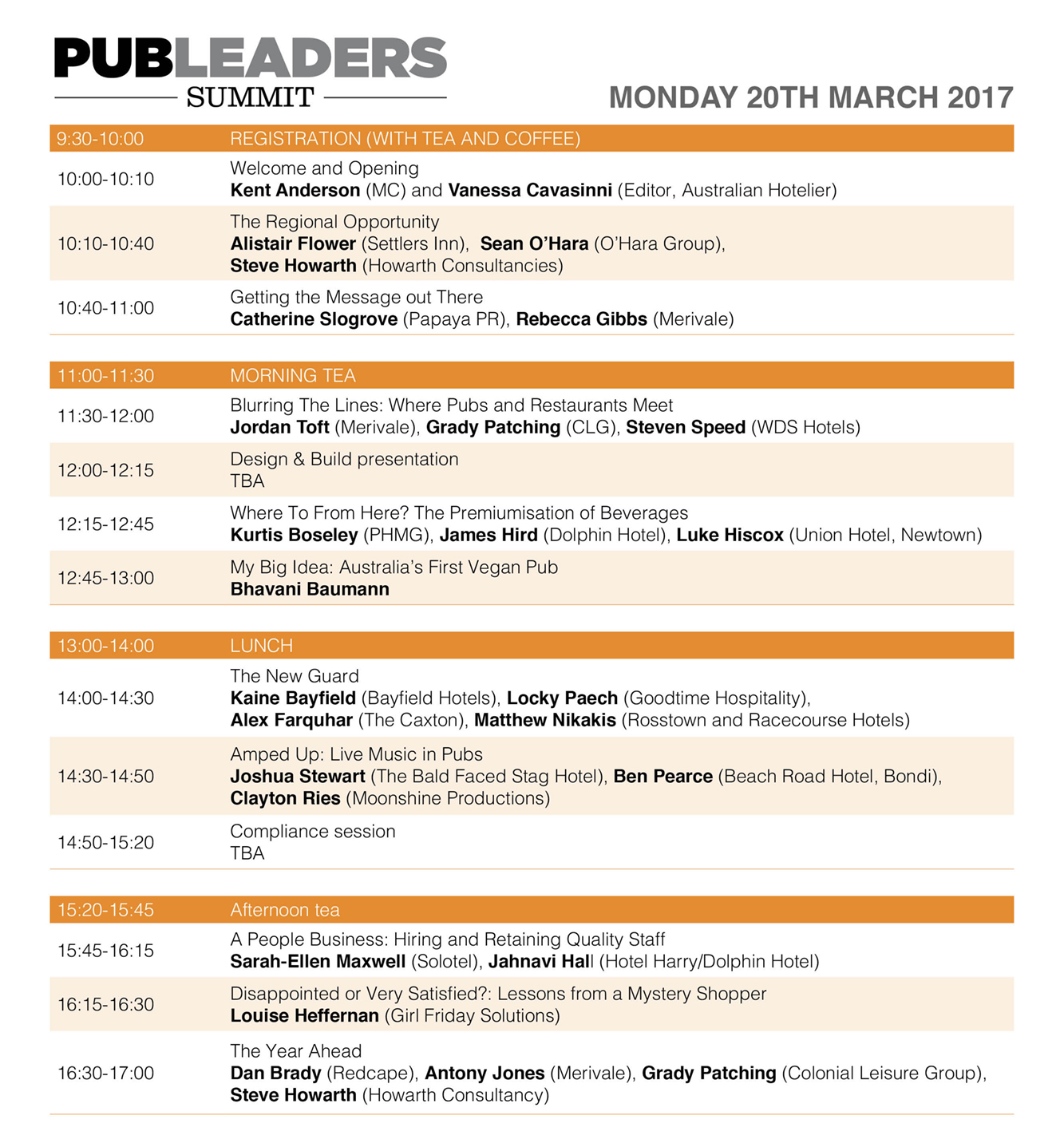 Save
Save
Send via Email