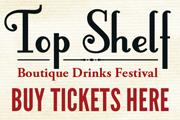 Tickets for Top Shelf are just $25 when you buy them in advance online here.
That's a saving of $15 off the standard door price.
Top Shelf, which takes place at the Royal Exhibition Building in Melbourne on 8 and 9 August 2015, is a boutique drinks show featuring plenty of premium brands, Australia's best bartenders and a packed program of inspiring educational presentations.
Your Top Shelf ticket allows you to sample from hundreds of premium drinks and attend the many talks and demonstrations we've got planned for 2015.
Brands and companies exhibiting this year include: Feral Brewing, Franklin Cider, Hawthorn Brewing, Laphroaig, Lillet, The Melbourne Gin Company, Appleton rum, Russian Standard vodka, Sullivan's Cove, Wild Turkey and many more.
We've got international guest speakers flying in from the US and talks and demonstrations on craft beer, Aussie spirits, food/drink matching and much more.
Last year's show was a massive hit with visitors. Don't miss out on 2015's festival! Book your tickets now!
For more information about Top Shelf 2015, visit our newly relaunched website.
Send via Email