Igor Pachi and Blake Hall have taken out the elit art of martini competition in their respective cities, and will both be flown to Ibiza in September to compete in the Global Final at the elit Vodka Ibiza Weekend 2017.
Igor Pachi from Assembly Bar in Sydney (pictured above) and Blake Hall from The Store Room in St Kilda (pictured right) each beat a number of top bartenders from their city to be crowned as the winners for 2017.
The elit art of martini competition by Stolichnaya celebrates the world's best bartenders and their talent for creating the iconic vodka martini.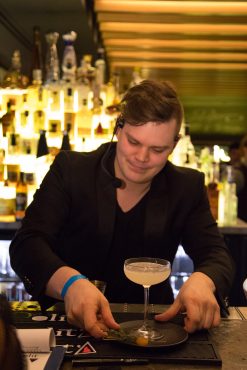 The competition began with bartenders from both cities submitting a martini recipe; those that made the cut were required to promote their drink in their venue and on social media for a two month period.
Five finalists in Sydney and four in Melbourne then competed in a city final where they were charged with recreating their in-venue cocktail as well as competing in a 'mystery box' round.
"The calibre of finalists in both cities was exceptional and the competition was incredibly close," said Tanya Mah, judge and Stolichnaya Brand Manager at island2island.
"All the bartenders did an excellent job of putting forward creative and well balanced cocktails. One of the oldest cocktails around, the martini is so versatile it's only limited by your imagination.
"It's the perfect drink for bartenders to show off their skills and their creativity. Congratulations to the winners and we look forward to them representing two of our great cities on the world stage."
Sydney finalists
Igor Pachi – Assembly Bar (Winner)
Jake Down – This Must Be The Place
Kelham Waterfield – Bar Moncur @ Woollahra Hotel
Kurtis Bosley – Public House Management Group
Steve Cipriani – Lot 1 Sydney
Melbourne finalists
Blake Hall – The Store Room
Emma Cookson – Polly Bar
Chris Hinds – Polly Bar
Indra Saryani – 18th Amendment Bar, Geelong
Send via Email