South Australian distillery Never Never Distilling Co. has been named as the only Australian gin to make the Top Trending Gin list by Drinks International.
The 2018 edition of the list – which is dominated by global European brands – marks the first time an Australian brand has been featured in the top 10, with Never Never coming in at number seven, sharing a spot with gin juggernauts like Tanqueray, Hendricks and Bombay Sapphire.
Sean Baxter, Never Never Distilling Co.'s Director of Sales and Marketing, says it's amazing to see what the brand has been able to achieve within six months.
"We've only just scratched the surface here in Australia so it's exciting to think where we're going to be in another six," Baxter says.
Never Never Distilling Co.'s team of three launched their signature Triple Juniper Gin in July of 2017 and it has quickly become a popular choice at some of the best bars in Australia for its bold flavour.
"The appeal of the brand lies in a return to flavour, a return to the classic characteristics and traditional ingredients that make a gin special.
"We have focused on using juniper as our signature botanical, supported by local and international flavours. By amplifying the juniper flavour, we have created a product that stands up in classic cocktails and is never lost in a gin and tonic," says Baxter.
"The pick up within the Australian bar community has been incredible and it's due to this fact alone that we have been able to feature on this incredible list of gins."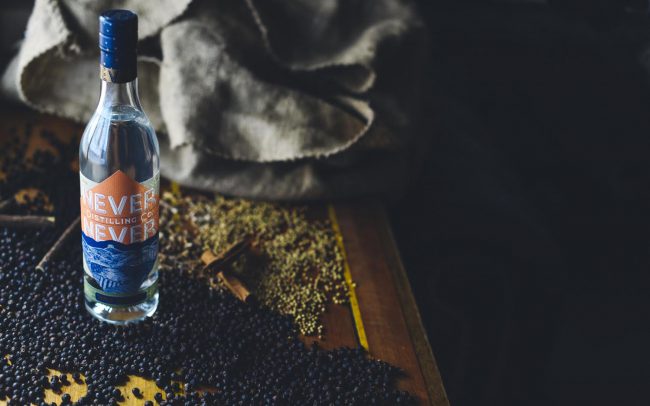 Chris Hysted-Adams, Bar Manager of Black Pearl – one of the most awarded bars in Australia – is one high-profile supporter of Never Never.
"We love getting behind local gins but especially behind one that uses local botanicals to enhance what gin should be all about, juniper," Hysted-Adams says.
The Top Trending list is created by polling bartenders from the top 100 bars in the world as well as key industry influencers and pundits.
Hamish Smith, Editor of Drinks International, says the fact this list is created by industry makes it even more important for brands.  "Simply put, the Brands Report is based on a poll of the best bars in the world," Smith says.
"As we know, a best-selling brand, even in the best bars in the world, earns its place on more than taste, so we also wanted to know the brands that are not necessarily doing huge volumes but have cool-appeal right now.
"This is where the Top Trending lists come in. [These] are the brands customers are increasingly asking for, perhaps because of word-of-mouth or even on bartenders' recommendations."
Send via Email