Mixers make up most of your drinks, so get your customers what they want – whether they are into health, flavour or a little bit of house made magic.
DIY MIXERS
The trend for creating homemade sodas care of machines like SodaStream has spilled out of the home and behind the bar – in some interesting ways if the plethora of articles about bartenders carbonating pure spirits are anything to go by.
While there are commercial versions for carbonating wine et al on the market, the more compact units have popped up behind more than a few small bars – This Must Be The Place in Sydney has a homemade system for carbonating their spritz-heavy menu.
The opportunity is obviously ripe for creating unique mixers for cocktails in a cost effective manner. In fact, SodaStream is actively targeting the small bar industry with the SodaStream MIX, which is going to be coming onto the market next year. It has a built in functionality to carbonate any liquid – from pure fruit juice to straight alcohol (and it integrates via Bluetooth with an app on your phone where you can create recipes) and it even recommends what level of carbonation will work best with your chosen liquid. In their own words, the team behind it says that the "SodaStream MIX is fully integrated into the Internet of Things, providing new opportunities for both professional bartenders and sophisticated home users".
According to Laura Wilson, marketing director for SodaStream Australia, it's all about functionality, and ease of use.
"Customisation is at the heart of the SodaStream system, giving small bars endless possibilities for beverage creation," she says. "From serving sparkling water to preparing mixers and cocktails, it's the ultimate in versatility."
HEALTH CONCERNS
It's cropping up everywhere, and the traditionally very sugar-laden world of mixers is going to be on the hit list for health conscious consumers.
"Consumers are now very conscious about what they buy, whether it is free range, organic or even sugar-free," says Johnstone. "This is helping brands to boom in certain demographics."
Consumers are even cottoning on to the fact that tonic, and many other mixers, are just as high in sugar as traditional soft drinks.
"Now they are looking for lower sugar mixers that also enhance the spirits more," says Tony Burt, of East Imperial. "Also with these type of lower sugar, highly elegant mixers the trend we are seeing is toward lower ABV spritzers with Aperol or vermouth."
Burt adds that on a recent visit to the US, he noticed that many of the bars in San Francisco are steeping vermouths with different garnishes – like kaffir limes and kumquats – and so aligning entire spritzer menus with the rotation of the fruit seasons. Something the health conscious will definitely be willing to get behind.
Sparkling water, of course,  is always a bigger seller with the health conscious – and it certainly doesn't have to be dull.
"Bars are stepping away from sweet brands and looking to offer something more premium with less sugar," says Thomas Vikario, from Perrier. "For cocktails with no alcohol or sugar, Perrier is the perfect replacement for traditional overly sweet sodas, thanks to its complexity and organoleptic balance. Tasteful functional cocktails with health benefits continue to be popular on the menus around the globe."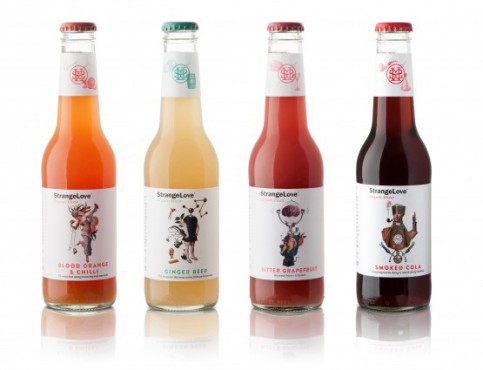 THE FLAVOUR TRAIN
There is an increasing demand from customers to  experience something new and unique when they enter a bar, and the new world of craft mixers can open up a whole new flavour field. Pop Soda is working to capture the flavours of traditional cocktails and distil them into soda form.
"For the Whisky Jerx Pop Up we looked at the Zombie Cocktail, took those flavours and recreated them in soda form," says Bergquist.  "It worked really well, though it worked better with tequila than the traditional rum."
Vikario notes that handcrafted sodas are becoming more in demand from customers. Not only does it open up the flavour possibilities, with a huge range of syrups paired with premium sparkling water, it also saves a lot of space.
"With this kind of mixer you will have your guest rethinking carbonated beverages," he says. "This is also a good and efficient way to stock different mixers as many bars do not have enough storage space anyway."
While the left of centre team over at StrangeLove have worked hard to make their flavours both challenging and drinkable, to give consumers a unique experience that they will then talk about, according to James Bruce, one of the company's founders.
"In short, boutique and premium brand proliferation is becoming increasingly more prevalent amongst the on-premise mixer subsector owing to a dismantling of incumbent flavour paradigms (via an increasingly sophisticated consumer landscape)," he says. "And a constantly evolving end-user bias towards  enhancing favourable peer-perception by way of brand-value identification and  transference."
Or as he translates: People are trying new stuff because they are easily bored and – to save time – use brands/products to show other  people who (or what) they are.
With flavours such as Smoked Cola – "because anything worth doing is worth doing smoked" – and Blood Orange & Chilli – "the next  best thing to having real emotions" – there is instant potential for a unique consumer experience.
There are even craftier versions of the ubiquitous energy drink mixer available on the market. The most recent entrant is local  Australian brand Buderim Ginger, which has recently expanded out of the Sunshine Coast, and taken its classic ginger beer, and added guarana for an extra kick.
CHOOSE WISELY,  YOUNG MIXER
By Thor Bergquist
Get out there and try everything – it will take a while to find a particular mixer for a particular spirit that you like. For us, behind the bar, a blind tasting is so important to eliminate the marketing aspect and the preconceived flavours and associations that we get from it. We did a blind tasting with seven bartenders and the tonics were all mixed with a particular type of gin. Because of that everyone voted a supermarket-style of tonic as their  favourite. It doesn't mean that it was the best tonic, but it was our favourite for that gin. It was really surprising for us.
As a bartender, one of my personal favourite ways to use a mixer in an unexpected way is with a cognac and tonic, which I guess is a little bit left of centre, it's a really good drink – with a wedge of orange it's delicious.
Bartenders can only sell something that they believe in and that they really love. Find out what your customer wants from a mixer – for example some people like heavy on the quinine in a tonic, some people like them more floral. It's about finding the best one for that person.
We're developing a Soda Masterclass, so we're talking about the history of soda, in particular cola and tonic, and about how Prohibition really kind of ties in with sodas. It's actually really interesting.
Send via Email