Three Bottle Man, located in Bulletin Place at the Sydney Harbour Marriott in Circular Quay, has opened its doors as Sydney's only bar to stock all Australian beverages and produce.
With an all-Aussie wine and beer list, specialty cocktails made with only Australian spirits and ingredients, and only local produce used in its all-day menu, the venue's offering reflects the quality of this country's gourmet output.
"Our country has so much to offer in terms of quality beverages and produce and we're thrilled to be the only bar in Sydney celebrating an exclusively local menu," said Three Bottle Man's General Manager, Jeremy Magan.
Open from breakfast to dinner, the morning café transforms into a lunch and dinner spot, offering a carefully curated selection of all Australian cocktails, fine wines and beers alongside an a la carte menu that has a focus on share plates.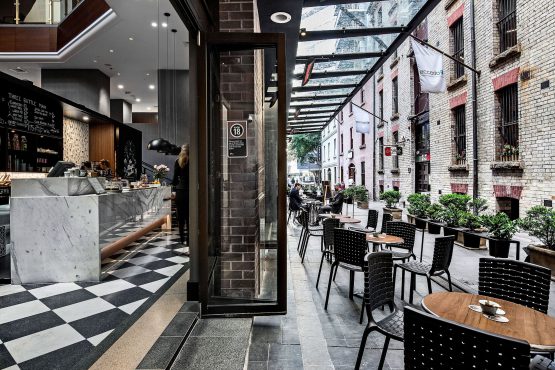 BARS&clubs spoke to Three Bottle Man bar supervisor Kartik Chaudhri about how the idea for the bar was conceptualised.
"In terms of beverages, Australia has so much to offer now," said Chaudhri. "There's so much going on in the beverage scene in Australia, of course Aussie wines but also Tassie whiskies and all the spirits – even when you're looking just at Sydney you've got Archie Rose distilling its own gin.
"So we thought 'let's do something unique', plus we're in Bulletin Place where there's one of Sydney's best cocktail bars and we needed something interesting to hang our hat on – so we decided to do an all Australian bar.
"We believe Melbourne has one such bar but in terms of Sydney we're the first."
Three Bottle Man is working with leading Aussie spirits distributor Nip of Courage, ensuring that their drinks program also promotes a lot of the smaller, boutique Australian distilleries.
The bar has been named after William Pitt, the youngest ever, late-18th century British Prime Minister who earned the name 'Three Bottle Man' for famously carrying three bottles of liquor with him at all times. 
As Chaudhri explained, the Three Bottle Man name also carries over into the bar's day-to-day program.
"Everything we do we do in threes, so for the day we've got three whiskies, three vodkas, three gins, and there's no published cocktail menu – every bartender comes in with their own three specials for the day.
"We've got 14 bartenders to work with and they do their own twist on things, so if they're doing an Old Fashioned, rather than doing it with whisky they'll do something with Australian rum. Our espresso martini with cold drip coffee has also been really popular.
"As for the wines, the wine menu is ever-changing; every two weeks we revisit our wine list, so the idea is when you walk into the hotel you will have the option of six red and six whites by the glass, and every two weeks we go back and change it.
"The whole idea is to keep it interesting, and not be the typical bar with a mundane wine list where you've seen every wine before."
The launch of Three Bottle Man is part of Sydney Harbour Marriott's $15 million renovation, delivering what is a brand new food and beverage concept for the hotel.
Send via Email