Turner Stillhouse is an award-winning, small batch, craft distillery located in Tasmania's Tamar Valley, that was founded in 2018 by Justin Turner, an American from North California, and who is bringing some of that American influence to his spirits.
The distillery currently has four gins on the market, with some interesting whiskies maturing. The gins, released under the brand name Three Cuts Gin, are already gaining recognition on the international competitions circuit, most recently at the American Distilling Institute awards.
The Three Cuts Gin 'Distillers Release' was awarded Best of Category for International Contemporary Gin, as well as a Double Gold Medal. In addition, the Three Cuts Gin 'Pinot Barrel Rested' gin was awarded Silver with the 'Chardonnay Barrel Rested' and 'Founders Release' both awarded Bronze within the same category.
Justin grew up in a family involved in the wine industry, and having met his Tasmanian wife in the US, eventually made the move to the Tamar and although he came from a wine family and lives in a well-known wine region, Justin told Bars and Clubs, there was something about spirits that just appealed to him more.
"I love wine, but I think the spirits industry resonated with me a bit more. Plus there are so many wineries and it's such an established market, whereas I felt the craft distilling industry is still in its relative infancy. I also felt there was a stimulating opportunity to bring a lit bit of an American perspective on craft distilling to Australia and Tasmania in particular. So that's what I'm endeavouring to do with our distilling."
And in terms of what that American perspective means, Justin said: "Just some slightly different botanicals with our gins, and then from a whiskey standpoint our whiskey still is a 3000-litre hybrid still from the States, and our mash tun also comes from a US manufacturer.
"So we intend to do both a single malt, which we've been producing for close to a year now, and we're also going to do quite a bit of rye and bourbon, although we can't call it bourbon, we have to call it corn-whiskey styles here.
"I know some distilleries on the mainland are doing these styles but I just don't think anyone is doing it on a commercial basis in Tasmania. And this gives us an opportunity to highlight what you can do with some super-premium rye and bourbon-style whiskies, using Tasmanian grain wherever possible."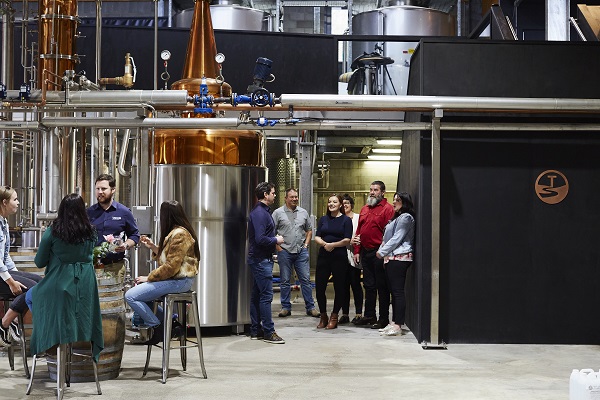 The whiskies are obviously still maturing, and looking "fantastic" so far, but Turner Stillhouse does have four gins o the market, and once again the American influence can be seen in these.
"Being from North America I just really love lime, as opposed to lemon which is used a bit more over here. So with our Founders Release we really tried to utilise a couple of North American-style botanicals, like lime and a bit of cinnamon.
"So I found out they grow citrus near the distillery so we can utilise local limes, and most of the distilleries here are doing vapour-infused gin, and what we're doing is a pot-infused spirit where all our botanicals are infused in our neutral grape-based spirit and distilled together in one shot."
That drive to try and do something different, while also using local botanicals saw Justin and his co-distiller Brett Coulson move away from the popular local recipes of lemon myrtle and pepperberry and instead head to local rose gardens.
"So the name Three Cuts Gin comes from the three cuts of rose we distill into our gin. [Rose brings] slight floral notes, we didn't want it to be overly floral because that could scare people off, it's just a light touch of local Tasmanian floral notes.
"This gives us a very approachable, versatile gin with the Founders Reserve, and with the Distillers Release, our second gin which is the one that took our Best International Contemporary Gin at the ADI, we had 50-50 fresh lemon and lime, always use fresh citrus, still the three cuts of rose, but a bigger juniper forward-hot, as well as green cardamom for something a bit more exotic and that's really resonated with the public and with judges."
Three Cuts also has two barrel-rested gins one from Pinot Noir barrels and one from Chardonnay, Justin told Bars and Clubs: "Fascinatingly we thought the Chardonnay, being a white wine would have been the lighter of the two, but it turns out in fact that you get more oak influence, a bit almost towards a good light whisky. While the Pinot you can still taste the gin a bit more in there and you still taste the floral notes, and a bit more sweetness."
For more on Three Cuts and how you can get hold of the award-winning gins, head to the Turner Stillhouse website.
Send via Email